Educational talk about the critical role of the liver
About this event
Brain Injury Association of York Region is pleased to present:
Liver Love
Hosted by Joanne Smith, Certified Nutrition Practitioner
--
Your liver has over 500 roles in your body. Living with a chronic disability often puts extra burden on this organ.
In this presentation, you will learn:
the critical roles of your liver
how your liver functions
what essential nutrients your liver needs to function optimally
liver living recipes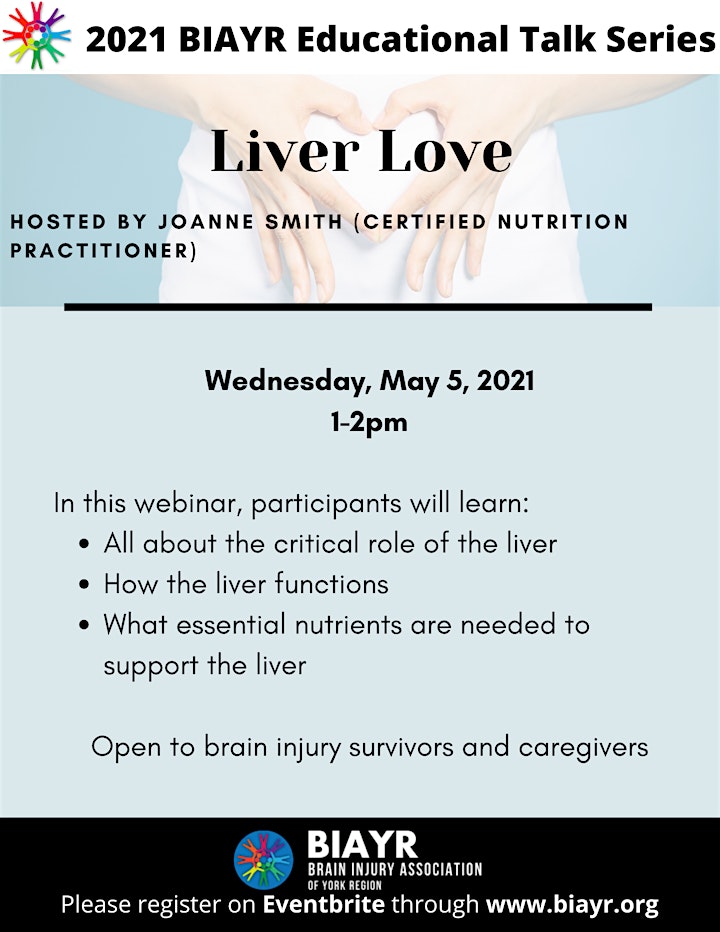 About Joanne Smith:
Joanne Smith is a Certified Nutrition Practitioner who practices at Neurocore Physiotherapy & Rehab Centre. Her nutrition services focus on individuals who have sustained traumatic injury with specialization in neurological conditions such as spinal cord injuries (SCI) and brain injuries, multiple sclerosis and cerebral palsy. Joanne co-authored Eat Well Live Well with Spinal Cord Injury & Other Neurological Conditions, the first nutrition book dedicated to addressing the unique needs of people with SCI. She is also a regular nutrition columnist for New Mobility and Community magazines in Canada and the USA, as well she teaches nutrition classes to individuals who are deaf/blind at The Canadian Helen Keller Centre.