Event Information
Refund policy
Contact the organizer to request a refund.
Eventbrite's fee is nonrefundable.
Pallade Musica livestreams beautiful music from 17th-century Rome, composers under the patronage of Queen Christina of Sweden.
About this event
PROGRAMME
Carlo Ambrogio Lonati (1745 - 1712) - Sinfonia à 3 en ré majeur
Lonati - Sonate pour violon no. 1 en ré mineur
Archangelo Corelli (1653 - 1713) - Sonata en trio en fa majeur
Giovanni Lorenzo Lulier ("Giovannino del violone") (1662 -1700) - Amor, di che tu vuoi: II. Aria "I begli occhi del mio bene" (transcrit pour violon et violoncelle)
Lelio Colista (1629 - 1680) - Sinfonia à 3 en la mineur (W-K 30)
Lulier - Sonate en fa majeur pour violoncelle et basse continue
Corelli - Sonata en trio en sol majeur, op. 1, no. 9
Lonati - Sinfonia à 3 en sol mineur
Pallade Musica exploite le faste et la splendeur de l'une des femmes mécènes les plus fascinantes du XVIIe siècle, la reine Christine de Suède. Elle représente le pouvoir des femmes de façonner et d'influencer les arts et sa propre vie continue de nous fasciner avec une histoire complexe qui touche aux notions de rôles de genre (y compris la tenue vestimentaire masculine), aux styles de vie non conventionnels, aux identités culturelles et à la ferveur religieuse. Exceptionnellement instruite et mélomane, la reine Christine de Suède devint l'employeur d'un orchestre à Rome, dirigé par le violoniste Carlo Ambrogio Lonati, et employa également d'autres musiciens superstars, dont le luthiste Lelio Colista, le violoniste Archangelo Corelli et le violoncelliste Giovanni Lulier. L'amour de Christina pour la musique et le soutien qu'elle apporte aux plus grands musiciens de son époque leur confèrent le prestige et la réputation nécessaires pour lancer une carrière fructueuse à Rome.
Pallade Musica harnesses the pomp and splendour of one of the most fascinating female patrons of the 17th Century, Queen Christina of Sweden. She represents the power of women to shape and influence the arts and her own life continues to fascinate us with a complex story that touches upon notions of gender roles (including masculine dress), unconventional lifestyles, cultural identities, and religious fervour. Unusually well-educated and music-loving, Queen Christina of Sweden became the employer of an orchestra in Rome, led by violinist Carlo Ambrogio Lonati, and also employed other superstar musicians including lutenist Lelio Colista, violinist Archangelo Corelli, and cellist Giovanni Lulier. Christina's love of music and support of the greatest musicians of her time gave them the prestige and reputation needed to launch a successful career in Rome.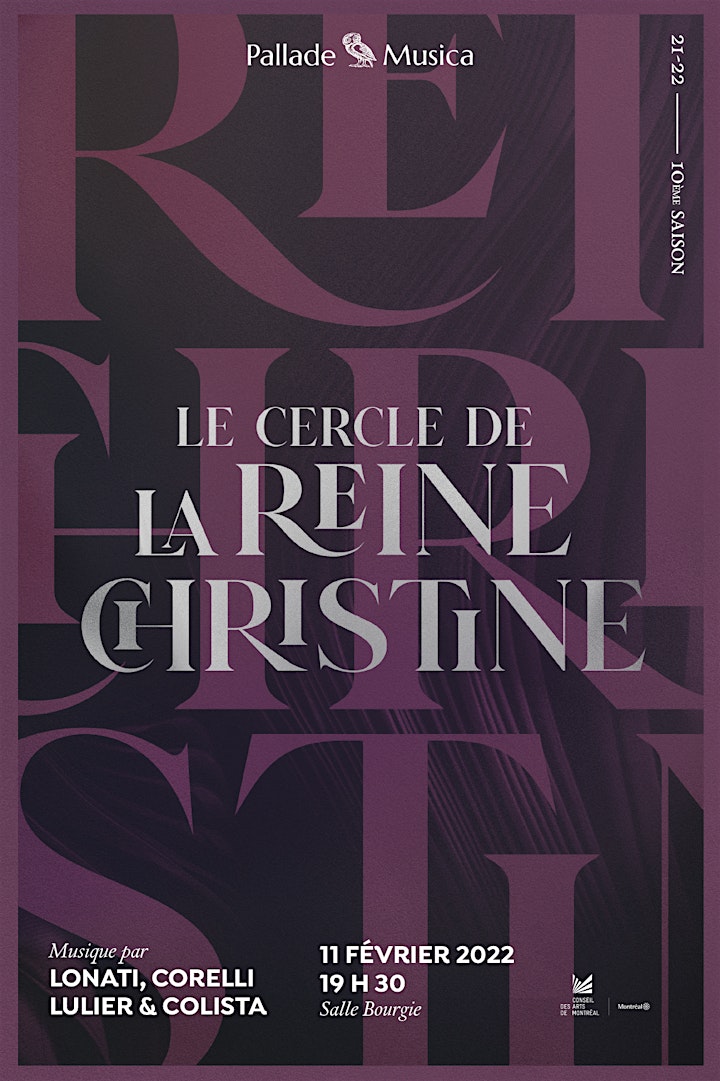 Date and time
Location
Refund policy
Contact the organizer to request a refund.
Eventbrite's fee is nonrefundable.