| | |
| --- | --- |
| Livin' La Vida Imelda @ #KulturaTO | |
Event Details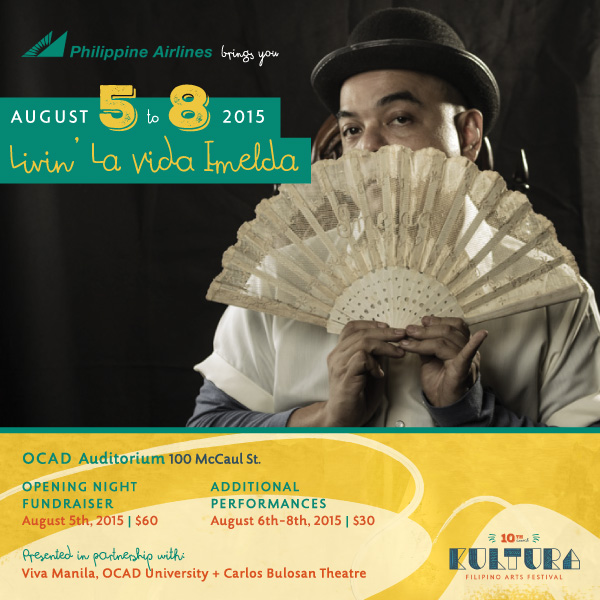 #KulturaTO | IG @KulturaTO  | FB /KulturaTO  | Kultura.ca
Carlos Celdran, notable Filipino cultural activist and performance arists, is brought back to the KULTURA Filipino Arts Festival by Philippine Airlines with his celebrated piece, "Livin' La Vida Imelda," fresh from a sold-out run off-Broadway (Ma-Yi Theatre, NYC) in Fall 2014. Celdran takes a metaphorical scalpel to the beloved/hated, infamous former first lady, Imelda Marcos, to reveal how she has influenced Philippine history and the Filipino identity for better or for worse. The Opening Night VIP Performance will be the gala performance of "Livin' La Vida Imelda" for the opening night of KULTURA Filipino Arts Festival. 

From August 5-8, the OCADU Auditorium will become the Marcos-era, martial law Philippines, with the bigger-than-life First Lady Imelda Marcos in the spotlight in "Livin' La Vida Imelda".
VIP Opening Night Fundraiser:
Wednesday, August 5, 2015, 8:00 p.m.
@ OCADU Auditorium
100 McCaul Street
Box Office / Registration on site begins at 6 PM.
Bar Opens at 6:30 PM.
Tickets $60
Lechon will be served courtesy of Quiapo! Quiapo! Restaurant. The reception also includes an open bar. All of the proceeds generated at the VIP Opening Night Fundraiser will go to support Kapisanan Philippine Centre for Arts & Culture's youth programs.
Additional performances:
Thursday - Friday, August 6-7, 8:00 p.m., Saturday August 8, 2:00 p.m.
@ OCADU Auditorium 
100 McCaul Street 
Box Office / Registration on site begins at 7 PM on evening shows, 1 PM on the Saturday matinee show. 
Tickets $30


The Opening Night VIP Performance of Carlos Celdran's Livin' La Vida Imelda at KULTURA is presented by Philippine Airlines,and in community partnership with Viva Manila, OCAD University and Carlos Bulosan Theatre.
KULTURA Filipino Arts Festival and Philippine Airlines will bring audiences to Marcos-era Manila without leaving Toronto, under the guidance of Carlos Celdran - political activist, performance artist, and tourist guide extraordinaire.
This summer, Celdran is making his fourth trip to Toronto for his one-man performance: "Livin' La Vida Imelda." Performed last year at the Ma-Yi Theatre Company, "Imelda" is a cross between a history lecture and an intimate look at the woman who spawned the word "imeldific."
"We're thrilled to have Carlos return to open the 10th Annual KULTURA Festival," commented Nicole Cajucom, Kapisanan's new executive and artistic director. "This irreverent, thought provoking, and wildly entertaining work casts the mythology of Imelda into an entirely new light, particularly for the younger generation who know little about her impact in our history."
ABOUT KULTURA FILIPINO ARTS FESTIVAL
Energized by cultural pride and a progressive outlook on the Filipino- Canadian experience, Kultura Filipino Arts Festival has captivated the broader Toronto public for a decade with its innovative programming of live performances, traditional and modern cuisine, curated interactive art installations and a bustling marketplace.
The KULTURA Filipino Arts Festival is organized by Kapisanan Philippine Centre for Arts and Culture, a registered Canadian charity (88837 7404 RR0001).
When & Where

OCAD University
100 McCaul Street
Room 190
Toronto, ON M5T 1W1
Canada

Organizer
Kapisanan Philippine Centre for Arts & Culture is a multiple award-winning, youth-led, charitable community organization based in Toronto. We create a safe space for Filipino-Canadian youth, both second generation and newcomers, to overcome multiple barriers that prevent them from meaningful engagement in society. At Kapisanan, youth activate their creativity to explore identity, fostering pride and self-confidence, inspiring and empowering them to realize their full potential.