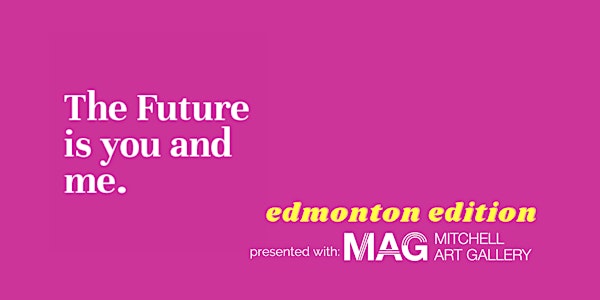 Living a Creative Life
Living a Creative Life: We'll explore a diversity of ways to develop creative careers as BIPOC womxn and non-binary artists.
About this event
When: October 24, 2020, 2:00-4:30pm MST (1:00-3:30 PM PST)
Where: Online (Please RSVP, and we will send you the Zoom link)
A roundtable conversation to share stories about the diversity of ways participants have shaped and navigated creative lives.
Featured Speakers:
Conversation Questions
What does it mean (to you) be a successful artist? What is success? What are the steps in building a sustainable, holistic career?
How do you/are you able to bring your whole self to your creative life? What does your practice look, as part of your life? e.g. practicing art as a mother, with a family, alongside other full-time/part-time work/careers, alongside health, alongside other responsibilities
What advocacy efforts/supports/systemic changes are necessary? e.g. universal basic income for artists.
***
This workshop is part of the Future is You and Me: Edmonton Edition, a free workshop-series, by and for BIPOC womxn and non-binary artists and cultural workers, hosted by 'The Future', in partnership with the Mitchell Art Gallery. We will explore three themes: Life and Livelihood, Care and Community, and the Future.
These workshops are for those at any stage in their arts career or practice and aim to build community and connection, and support professional development. The program also aims to build connections between creative communities and individuals in Vancouver and Edmonton.
How: THE FUTURE IS FREE. THERE IS NO FEE TO PARTICIPATE. The workshops are free, offer knowledge applicable to any artistic discipline, and aim to build a community of support by breaking through feelings of isolation.
Why: We aim to create safer spaces for BIPOC womxn and non-binary artists and cultural workers to candidly explore ideas of identity and share their experiences. While "discipline-specific" mentorship programs currently exist, 'The Future' embraces creative humans whose practice and artistic expression has many forms, who may pursue multiple disciplines during their careers, and/or who are in the process of exploring arts career options. This project is based in Vancouver and is working in collaboration with Mitchell Art Gallery. Fall sessions are co-organized by Kathryn Lennon and Kristin Cheung.
Who: These workshops are by and for BIPOC womxn and non-binary artists and cultural workers*.
*This is inclusive of all self-identifying Black, Indigenous and People of Colour cis and trans women, as well as Black, Indigenous and People of Colour non-binary people who are comfortable in a space that centres the experiences of women and BIPOC people (in all the diversity of those experiences).