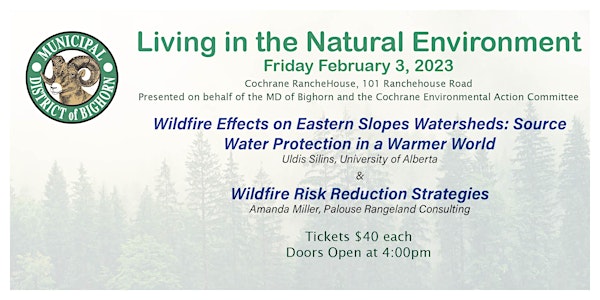 Living in the Natural Environment
Our speakers will discuss impacts of wildfire on our landscape and introduce initiatives around reducing wildfire risks.
Date and time
Starts on Fri, Feb 3, 2023 4:00 PM MST
Location
Cochrane RancheHouse 101 Ranche House Road Cochrane, AB T4C 2K8 Canada
About this event
4:00pm - Doors Open
5:00pm - Uldis Silins Presentation
6:30pm - Prime Rib Dinner
7:50pm - Amanda Miller Presentation
Tradeshow Displays will be open for viewing 4:00pm - 7:50pm
Uldis Silins will present a broader talk on the shifting reality of wildfires in our contemporary climate situation and how these generally affect a range of water resources "values" from streamflows through water quality and subsequent impacts on aquatic ecosystem health and human water uses.
Amanda Miller will discuss an overview of natural disturbance regime, highlight the effects of fire suppression over time on ecosystem and introduce BC's Targeted Grazing project and outcomes. She'll also present on an Alberta example where grazing is being utilized to manage wildfire risk.
Thank You to our sponsors: Cochrane Environmental Action Committee, Rocky View County, Fortis Alberta, CCI Solutions and Spray Lake Sawmills