Description
Living Narratives - Harnessing the Power of your Inner Story
Click on the image to see a video introduction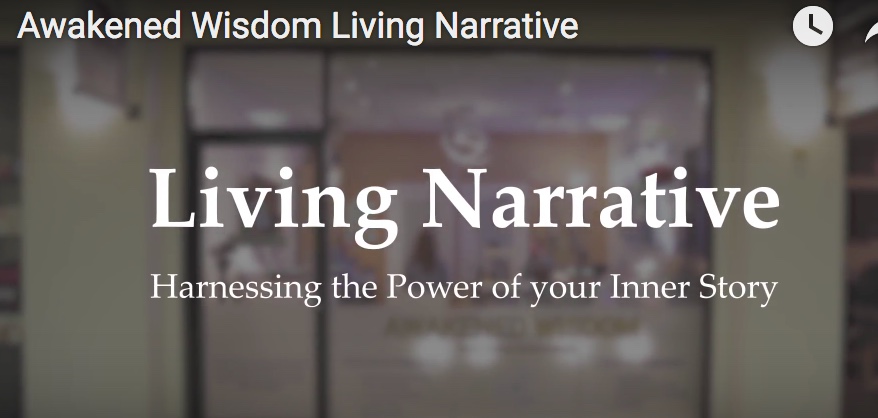 Are you the story or the storyteller?
We experience ourselves through the narrative of our inner and spoken dialogue.
Your words are a most powerful force of creation and as you think and speak you create.
Did you know that you have multiple storytellers within you?
The one in you that you put in charge of the story department is also the one in charge of your powers of creation.
This is the context through which we will explore the possibilities for:
Who you are on this journey

Expressing and living your life purpose

Creating a life that is resonant according to your dreams
You have a choice as to which voice from within is in charge of the story department.
Who, from within, responds and gives energy and voice to your life's experiences.
Who you put out in front as your story teller has a profound effect on your energy, your sense of:
wellness

happiness

fulfillment

your life experience as a whole

on what doors open or not as you journey through life's great adventure.
In this program, you will learn how to bring the power of your words and your story into service for the sake of creating a personal and professional journey that is fulfilling, positive and gets the results you want.
This program is sure to have a powerful impact.
Space is strictly limited for the sake of a powerful experience.
Presented by Awakened Wisdom Experiences
Small Groups - Big Experiences
Program Details
Space in this program is strictly limited for the sake of a powerful experience.

When:
We will meet for three Saturday mornings from 9:30 to 12:00 beginning on May 27th, 2017.

Where:
We will meet at our new Vancouver Coaching Center in Yaletown in Vancouver, Canada.
We are 1 block from Yaletown-Roundhouse Skytrain station.

Who:
This program is for anyone who wants to grow and develop themselves both personally and professionally.


Guided by Patrick Ryan
Patrick Ryan CRCh, CPCC
Bio
Registered Clinical Hypnotherapist, Coach, Vision Quest Guide, former Buddhist monk, and bestselling author of Awakened Wisdom: A Guide to Reclaiming Your Brilliance, The AWE of Awakening and The Eagles Call.
Patrick has coached and conducted leadership development programs for over 20 years internationally. He has presented his work in London, Tel Aviv, Spain, San Francisco, Vancouver, Toronto, Amsterdam, Dubai, Egypt, Japan, Korea, Thailand, Myanmar(Burma), Laos, Cambodia, and throughout North America.
Patrick has coached in a wide variety of industries working with creative artists, musicians, scientists, engineers, doctors, bankers, entrepreneurs, hr executives, and he has also volunteered his services to the men of San Quentin Prison coaching them on living the life of a good man.
Patrick develops training events, leads retreats and was a senior trainer for the Coaches Training Institute, a leading global coaching organization in Coaching and Leadership development for over ten years.
Patrick guides vision quest experiences and has lead extensive transformational, personal and professional development work.
He has accumulated thousands of hours of one on one, group and team coaching experience.
https://www.vancouvercoaching.com/about-us/
Living Narratives - Harnessing the Power of your Inner Story
What other people are saying:

"Wherever you are on your journey and life on personal development, beginner or master, Patrick Ryan will guide you to the next level. You will be challenged to go beyond what you even can dream is possible."
"Is my duty as a Personal trainer and wellness professional to recommend the work of Patrick to family and friends, at just my first session with the group , I can see how all the topics treated can relate to all of us, this with the intention of creating awareness to develop skills and action plans to improve in all aspects of our inner personal and professional growth . I'm thankful for this experience, and for what is about to come."
"Attending this program really inspired me to live with more intention and fulfillment. I'm amazed by the gifts and visions I had during the exercises and the comfortable setting to share these special experiences. It feels like everybody there is working for the good of each other, and Patrick's guidance brilliantly set the tone for some pretty transformational moments to happen. I feel more empowered on choosing how I want to live my life and pass that along to others. Thank you, Patrick!"