Location
Morris J Wosk Centre for Dialogue
580 West Hastings Street
Vancouver, BC V6B 5K3
Canada
Presented by Hey Neighbour Collective, Happy Cities, SFU Urban Studies and SFU Public Square
About this event
Please join us at Living Together, a two-day series of engaging presentations and dialogues about tackling loneliness and social isolation in our homes and urban communities.
Attend in person at SFU's Morris J. Wosk Centre for Dialogue in downtown Vancouver for one or both days, or attend select panels virtually via Zoom livestream. In-person attendees will have access to dialogues and workshops as well as catered lunch.
Well before COVID-19, loneliness and social isolation were on the rise locally and globally, deeply impacting personal and collective health and well-being. Unlike the United States, which has declared a loneliness epidemic, or the U.K. and Japan, which have appointed Ministers of Loneliness, Canada has yet to meaningfully identify loneliness as a public health crisis, though trends here are similar.
Many socio-economic factors create higher vulnerability to loneliness and social isolation, including where and how we live. Some studies have shown that residents of multi-unit housing are less likely to know their neighbours or do small favours for them than residents of less dense housing types, and that they report higher levels of loneliness and lower levels of trust in neighbours.
In the Metro Vancouver region, most of our communities are growing up, making multi-unit housing the norm, particularly for low- and middle-income residents. This should compel us to creatively interrogate how we design, redesign and program housing and surrounding neighbourhoods.
The good news is that, although Canada does not have a unified or adequately funded strategy to help us tackle loneliness and social isolation, much is happening locally and across Canada.
Living Together is a space for concerned professionals and advocates to exchange ideas about efforts happening now, and develop a stronger collective voice. You'll be in good company: we are expecting a diverse gathering of housing professionals, municipal planners, public health professionals, architects, non-profits, funders, emergency management professionals, academics and students.
If ticket cost is a barrier to your participation, please contact Lainey Martin at lainey_martin@sfu.ca.
Agenda
PROFESSIONAL PLANNERS: Each full day of the symposium is eligible for 5.0 PIBC CPL units. See details below for individual session eligibility.
ARCHITECTS: You can self-report select sessions as non-core learning units to the AIBC Continuing Education system. See details below for individual session eligibility.
Day 1 (June 7)
Tackling loneliness: Lessons from near and far
9:00 a.m.–11:15 a.m. (in-person OR virtual)
Eligible for 2.5 PIBC CPL units
Learn from a fantastic panel of Indigenous, local, national and international leaders, and then join fellow participants to share ideas for tackling loneliness and social isolation together.
Presenters:
Sarah Silva, CEO, Hiy̓ám̓ ta Sḵwx̱wú7mesh Housing Society
What have Hiy̓ám̓ Housing leaders learned so far on their journey to providing new affordable housing that helps welcome more Squamish home? How will Hiy̓ám̓ Housing offer solutions to social isolation for residents, and how can Squamish culture be advanced within new buildings? What can non-Indigenous communities learn from this journey to improve opportunities for social connections and better relations within other homes and communities?
Joan Ramon Riera Alemany and Ruth Torbio Serrano, Councillors, City of Barcelona
What are the roots of loneliness as a problem demanding civic action in Barcelona, giving rise to their 2020-2030 Municipal Strategy Against Loneliness? What were the key steps in crafting and launching this 10-year strategy? What impacts have they seen so far and what can Canadian municipalities learn?
Ashley Flanagan, Research Fellow, National Institute on Ageing
Where are we at in Canada in terms of policy attention on loneliness and social isolation as it pertains to older adults? How do we compare internationally and what can we learn from other jurisdictions? Where are there strengths and gaps in Canadian policy approaches and how might we build upon efforts underway and perhaps expand beyond older adults to encompass all impacted Canadians?
Moderator:
Michelle Hoar, Project Director, Hey Neighbour Collective
FLUID Sociability tool: Demonstration and panel discussion
1:45 p.m.–3:15 p.m. (in-person OR virtual)
Eligible for 1.5 PIBC CPL units and 1.5 non-core AIBC learning units
Learn about the FLUID Sociability tool, a public good agent-based online simulation tool that allows for quantitative sociability comparisons of different options while buildings are in the early design stages. We'll discuss its potential impact for architects, developers and municipalities and its ability to provide quantitative and comparative data to support design for social connection.
Presenters:
Bruce Haden, Co-Founder, Human Studio
Madyson McKay, Project Manager, City of Calgary
Sadhu Johnston, Former City Manager, City of Vancouver
Iris Lok, Department of Psychology, University of British Columbia
Moderator:
Lilian Chau, Chief Executive Officer, Entre Nous Femmes Housing Society
Towards Metro 2050: Equity report and mapping tools
3:30 p.m.–4:30 p.m. (in-person OR virtual)
Eligible for 1.0 PIBC CPL units
Learn about social equity mapping resources from Metro Vancouver's Metro 2050 regional growth strategy, and take part in a conversation about what future case studies might be useful as we work towards more equitable, complete, socially connected and resilient communities.
Presenters:
Erin Rennie, Senior Regional Planner, Metro Vancouver
Laurie Bates-Frymel, Senior Planner (Environment), Metro Vancouver
Moderator:
Michelle Hoar, Project Director, Hey Neighbour Collective
Day 2 (June 8)
Resilient and socially connected housing: Learning from industry champions
10:00 a.m.–12:00 p.m. (in-person OR virtual)
Eligible for 2.0 PIBC CPL units and 2.0 non-core AIBC learning units
Presentations from industry champions who are working to design and develop more sustainable, affordable and socially connected housing.
Presenters:
Michael Eliason, Founder, Larch Lab (Seattle)
John Wall, Public Architecture, Vienna House Project (Vancouver)
Kent Patenaude, Development Manager, Lu'ma Development (West Vancouver) and Hugh Forster, Principal, Terra Special Projects
Moderator:
Houssam Elokda, Interim Managing Principal, Happy Cities
Guidelines and policies for social connection in multi-unit housing: A co-creative workshop
1:00 p.m.–4:00 p.m.(in-person only)
Eligible for 3.0 PIBC CPL units and 3.0 non-core AIBC learning units
In this workshop led by the team at Happy Cities, we will use design thinking to envision what design guidelines for social connectedness in multi-unit housing could look like, and what accompanying policies are needed to implement and incentivize them.
Presenters:
Michael Epp, Director of Planning, City of North Vancouver
Madeleine Hebert, Housing Researcher and Intern Architect, Happy Cities
Houssam Elokda, Interim Managing Principal, Happy Cities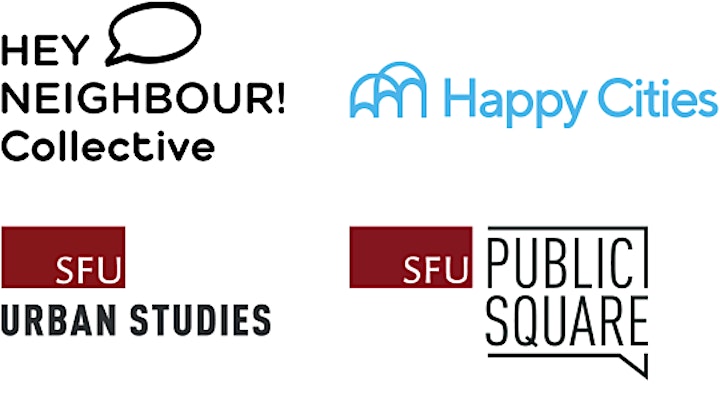 Hey Neighbour Collective
Using a collective impact approach, Hey Neighbour Collective (HNC) brings together housing providers, non-profits, researchers, local and regional governments, housing associations and health authorities. Together with residents of multi-unit housing, our mission is to experiment with and learn about ways of alleviating loneliness and social isolation while building capacity for neighbourly support and mutual aid.
Happy Cities
Happy Cities is an interdisciplinary firm working at the intersection of urban design, policy, engagement and human well-being. We turn evidence into action for happier, healthier and more inclusive communities. Since 2016, we have been researching the keys to addressing the loneliness crisis in multi-unit buildings. We now know that planning and housing design decisions can make or break social connections, elevate or reduce health and happiness, foster inclusion or deepen disconnection. In 2017, we published the Happy Homes toolkit, complete with design and programming actions to boost social connection in multi-unit buildings. Since then, we have been working with the Happy Homes framework to conduct research and consult with developers across the province.
SFU Urban Studies
SFU Urban Studies is located in the heart of downtown Vancouver, and we use our neighbourhood, city and region as living laboratories.
Our interdisciplinary faculty includes geographers, public policy scholars, political scientists, historians, economists and anthropologists whose teaching and research interests lie both within and outside Metro Vancouver, and who straddle both theory and practice.
The students we attract have diverse academic and professional backgrounds, which makes for robust, dynamic classroom environments where we explore the many different ways to read, understand and analyze the city.
SFU Public Square
SFU Public Square is situated at 312 Main, a centre for social and economic innovation in Vancouver's Downtown Eastside. We work across all of SFU's campuses, supporting faculty, students, staff, alumni and diverse communities to convene accessible, innovative and inclusive programming that brings people together to find ways to meaningfully contribute to the issues that affect our lives.
Every year, we collaboratively program dozens of workshops, debates, public conversations, discussion panels and other gatherings. These spaces encourage different perspectives and ways of knowing to collide and influence each other. The experience is transformative, inspiring deeper conversations, igniting networks, building capacity and catalyzing curiosity and concern into advocacy and action.
Thank you to our symposium sponsors!