Description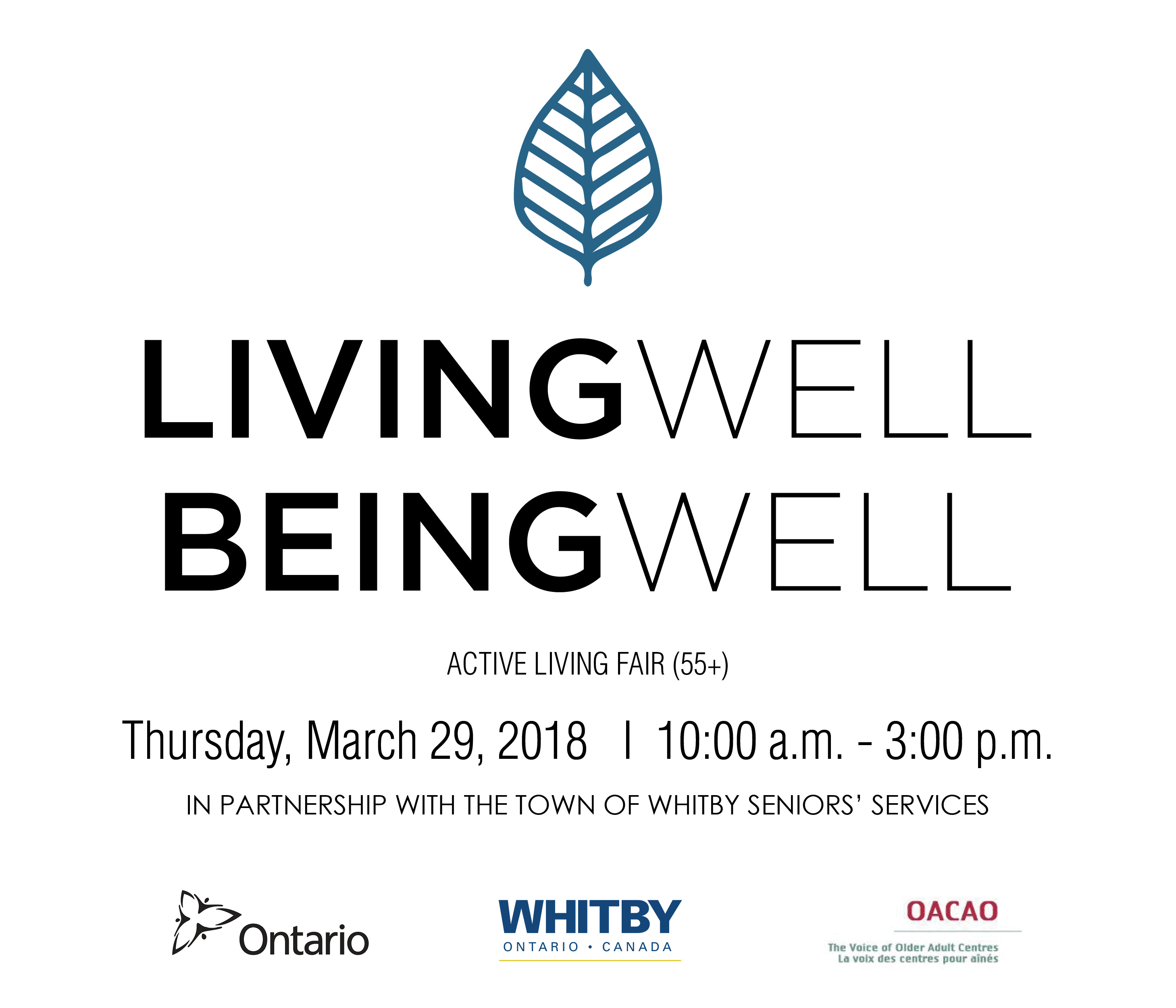 Event Description:
Living Well Being Well - Active Living Fair - Join us on Thursday, March 29th at the Abilities Centre from 10:00am-3:00pm, in partnership with the Town of Whitby Seniors' Services. This free, informative and engaging day offers guests the opportunity to experience:
Free Admission
Free food to be provided on a first-come first-served basis
Interactive lectures on topics such as: 10 Ways to Improve Health & Immunity; Meditation for Longevity; Financial Health - Knowing the difference between Power of Attorney and Power of Care; Fall Prevention.
Special Guests Include: Mayor Don Mitchell; Executive Director of the Abilities Centre, Leo Plue; Local MP/MPP's
Treatment Room available during the show offering access to Holistic Health Practitioners
Don't miss the opportunity to learn the latest in Holistic Health and Wellness at the Abilities Centre.
---
Vendors:
Aren't you fantastic! Your purchase just supported an amazing local Charity and helped you to grow your business and get noticed in the Durham Region! Click here to learn more about Abilities Centre and all of the amazing programs and services they offer for people of all ages and abilities. Inclusion is incredible!
Haven't purchased your spot yet? Here are a few more great reasons to get involved:
What you get:
We will be advertising in local media and sending out information to attend through social media, our website, and e-blast. Like, share, and share some more, to help get your brand noticed pre-event by our followers! Event day bring your best, most flashy display to stand out from the crowd!
Get Noticed and Promote Your Business!
Tables and Power Access can all be purchased with your vendor space.
Pricing is included above along with a description of the products.
Fine Print- Regular size for your reading pleasure
PAYMENT FOR YOUR PURCHASES ACT AS YOUR ACKNOWLEDGEMENT TO ABIDE BY THE FOLLOWING RULES AND REGULATIONS PERTAINING TO THE 2018 LIVING WELL BEING WELL EVENT AT ABILITIES CENTRE IN PARTNERSHIP WITH THE TOWN OF WHITBY SENIORS' SERVICES.
Cancelation and Right of Refusal

Abilities Centre reserve the rights to rescind, refuse or cancel this agreement for any breach of the below outlined show policies.
Event Hours 10:00 a.m.- 3:00 p.m.

By registering for our event you are committing to have your booth open for the entirety of our event hours.
This is to ensure that every guest, no matter what time they come, is provided with the same atmosphere and experience.
Set Up and Take Down

Set-up of your booth may be completed from 8:00am – 10:00am the morning of the show.
If you are not at your table by 9:00am to set up we will assume you are no longer attending and we will remove your booth.
Take down will begin at 3:00p.m sharp and should be complete by 4:00 p.m.
Booth size is approximately 8 feet wide by 5 feet deep.
Refund Policy

All sales are final and non-refundable.
Event transfers will not be given or accommodated
Event Day

Table layout and booth assignments will be emailed to you.
If you are bringing your own table, your booth number will be posted in your space.
If you have rented a table from us, your table will be set up in your booth space with your number posted on top.
There will be a table layout poster located at the front entrance but we advise bringing your own copy as well.
Sales of products/services must take place within the boundaries of your booth – no walk around sales or promoting will be permitted.
Payment

Your booth is ONLY considered secured once we have received FULL PAYMENT and you have completed the online registration form.