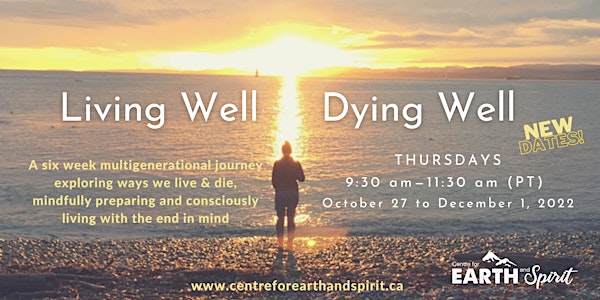 Living Well Dying Well - A 6 Week Online Program
Living Well, Dying Well is a multi-generational, soulful program exploring the ways we live and die.
Refund Policy
Contact the organizer to request a refund.
Eventbrite's fee is nonrefundable.
About this event
A 6-week online opportunity to tend end-of-life through supportive, peer-based learning circles, courageous conversations, Advanced Care Planning and shared wisdom of all participants. An invitation to grow and strengthen our capacity to live well while mindfully tending end-of-life matters.
EXPLORING THE WAY WE LIVE & DIE IN MODERN TIMES
A Multi-generational, Soulful & Experiential Approach
Drawing on cross-cultural wisdom, practical resources, embodied experience and collective insights, Living Well, Dying Well is an evolving program for envisioning and experiencing a respectful and eco-responsible approach to end of life. As a participant, you contribute to this growing conversation and become an integral part of re-visioning what it means to meet aging, living and dying with vulnerability, courage, beauty and grace.
Meaningful inquiry and dialogue illuminate unique issues and challenges for each participant. In a safe and welcoming environment understanding, compassion and belonging blossom into significant and impactful action.
In particular, we care that you have an Advanced Care Plan completed, as well as other important documents, and that you are well informed in regard to choices you will need to make as you consciously meet the end of life.
Living Well, Dying Well Is For You If You…
Are called to tend end-of-life with consciousness and care
Wish to reclaim dying and death as a personal, familial and village process
Care about an eco-responsible approach to end-of-life 
Are a caregiver
You are human!
_____________________________________________________________________
Thursdays, October 27 - December 1, 2022
9:30 - 11:30 a.m. PT (optional 1/2 hour till noon for Q&A and social engagement)  
On Zoom - link emailed with registration confirmation.

Your registration includes: opening mindfulness and somatic based practices, six live (real-time) online sessions, opportunities to explore through peer based inquiry, and a customized Centre for Earth & Spirit Living Well Dying Well Journal.
______________________________________________________________________
Sliding Scale —$295 - 245 or 2 for $450

To secure your spot, we request a deposit of $50. Registration fees are due in full one week before start date. Limited scholarships available!
To inquire, please email Penny at info@centreforearthandspirit.ca
Visit https://centreforearthandspirit.ca for more information about Living Well Dying Well, access to blog posts, social media links, and other upcoming programs!
The Centre for Earth and Spirit Society offers this program at an accessible rate, with support from a New Horizons for Seniors Program grant.
_______________________________________________________________________
Lead Facilitators
Penny Allport
A long-time lover of world wisdom traditions and participant in ceremonies honouring the life-death-life cycle from Mexico to Bali, Africa and the Amazon informs Penny's work as a Life-Cycle Celebrant. Fueled by a deep interest in our potential for being human's kind, Penny facilitates multi-generational classes and retreats, combining Continuum Movement, Yoga, writing, painting and dream processes, also incorporating the work of mentor Angeles Arrien (1940-2014), Cross Cultural Anthropologist, teacher and author of The Second Half of Life, 8 Gates of Initiation. See www.movingceremonies.com
Renate Ringer
Earth walker, star gazer, indigenous rose inhaler, ocean swimmer, wild mushroom forager and a continuing student of nature's wisdom and the cycle of life & death. Renate's background includes working in the health field; decades of research projects; managing urban agriculture programs and social enterprise endeavors in the non profit sector. Renate is currently exploring various additional healing arts such as: music, dance, poetry, story telling, herbology, reiki, dreamwork, and spirituality. 

Guest Facilitator
Abegael Fisher-Lang
As certified Life-Cycle Celebrant, mythopoetic storyteller and ordained non-denominational minister, Abegael is committed to you, your creative choices, and your ceremony. Abegael is a longtime storyteller with Mythopoetica Storytelling and a decades-long Waldorf educator, experiencing the power of imagination in education. Abegael is our first Living Well Dying Well—Partner graduate, and she will be joining the course as a Guest Facilitator.