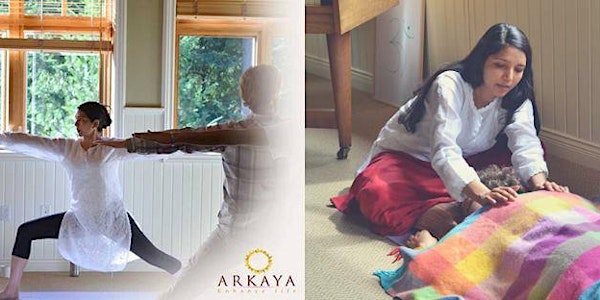 LIVING YOGA AND TANTRA (THUNTHRA)
Transform personal and ancestral karma to elevate relationships. Decolonized Yoga and Tantra with Yogacharini Maitreyi. www.arkaya.net
When and where
Location
Kitsilano Neighbourhood House 2305 West 7th Avenue Vancouver, BC V6K 1Y4 Canada
Refund Policy
Contact the organizer to request a refund.
Eventbrite's fee is nonrefundable.
About this event
About this Workshop
Relationships are elevated through deepening intimacy with self, Self, and with others.
Learn the difference between the triggered mind and the wise mind. How triggers can become a window to wisdom.
Use powerful portals to embrace your shadows into the light
Learn to communicate or ask for your needs to be met in healthy and uplifting ways rather than from lack or reactiveness.
Learn cathartic techniques to transform unresolved emotions that color the lens of perception. This can make us defensive or cause us to attribute things to people and situations that are not actually there. This is the opposite of gaslighting.
Healing practices that can be done individually or with a partner. The touch will be therapeutic. There will be no sensual or sexual touch involved.
We will look at patterns that we're carrying forward from parents and our family lineage that prevent us from living a fulfilled life.
We will also give thanks to our ancestors for the blessings and good we have inherited.
As a bonus, we will explore building immunity to not just physical germs but psychic germs or entities as well. We will see how energetic rips and hooks can be seen and released.
Why Tantra?
Tantra is a beautiful art and science that enables us to live fully in the body. As we embrace all dimensions of our being as well as layers of shadows we receive their gifts. We move from suffering to savouring. We learn tools and practices to expand our consciousness and mindset and live in love. An ancient path of liberation.
How is this different from Western Tantra?
The predominant notion and google searches of Tantra lead to a more sexualized version of tantra prevalent in the west. The eastern guides needed to see the readiness of the aspirant and hence this sacred practice needed a step by step instruction to get sensitized and cultivate integrity. It helps everyone in all areas of ones lives and not just in romantic or sexual contexts. However the preparation and ground work was important and emotional and spiritual maturity was required of an aspirant who wanted to deepen.
About the Teacher, Yogacharini Maitreyi
Growing up Maitreyi always wondered why adults had so many unresolved emotions. Her first guru was her grandfather who set the bar very high for her by speaking openly about life, love and sexuality. Maitreyi chose the path of sublimation as she was psychically sensitive as a child and felt the energetic hooks that people and situations could pull her into.
Yogacharini Maitreyi has been living the path of Yoga and Tantra since her youth in Chennai, South India. Her grandfather, R. Krishnamurthi was her first guru and she lived and learned from him when her childhood home was right next door to her grandparents. He was a householder and a high-court lawyer with an extensive library at home and he always encouraged and supported young Maitreyi in expanding her knowledge and her awareness of herself and life. Krishnamurthi passed on when Maitreyi was 16 years old but would continue to guide her until today.
Maitreyi was a very sensitive and empathic child who would have many out of body experiences and frequently astral travel. She also could see many other dimensional entities/beings. But because of societal and family pressures, she focused more on her studies and getting good grades in those formative years. However, her grandfather saw that she was a very open child and helped her to cultivate her sensitivity, to make sense of it and to feel empowered in having strong boundaries. In many Indian households patriarchy was prevalent which her grandfather did not encourage with Maitreyi. He steered Maitreyi to be empowered and independent and not to get pulled into unhealthy attachments.
After her grandfather passed on Maitreyi deepened her immersion at the Sivananda and Ananda ashrams. Since 1997, she has been given titles : Yoga chemmal (expert), Yoga shiromani (gem), and Yoga acharini (guide), in India. She was one of the youngest to be invited on the Advisory Board of the World Yoga Council, in Europe, in 2007. She has shared the deeper dimensions of yoga, self management and sattvic tantra worldwide.
Maitreyi has trained over 60 corporations, spoken at many conferences and has over 100 published articles in India, Hong Kong, Sweden, Dubai , Srilanka. U.S and Canada. She was invited to share her wisdom at many international yoga, ayurveda and leadership summits.
Maitreyi's heart sings to see lives blossom into consciousness. Training teachers in the deeper dimensions of yoga gives her great joy and fulfillment. This year the 2 year, 500 hr program goes fully online starting Nov 6th https://www.arkaya.net/teacher-training
A compassionate holistic coach, her sessions include online energy assessments to guide one into one's own innate balance. She loves nature and ayurvedic food and now lives in Vancouver, Canada. To know more about her go to: www.arkaya.net/founder-yogacharini-maitreyi
About Arkaya
Arkaya is a heart-centered community of practitioners, teachers and students of the classical Indian life-sciences of Yoga and Tantra.
History: Arkaya is one of the names of the sun in Sanskrit, which means light, inspiration, and awesomeness. Arkaya Awareness Center was founded in Chennai, India in 2001 by Yogacharini Maitreyi, who has been teaching holistic yoga since 1997. Maitreyi now lives on the ancestral lands of the Coast Salish peoples in Vancouver, BC, where the Arkaya school is growing and thriving. Since the onset of the COVID-19 pandemic, the Arkaya school has moved online, offering a number of regular programs for students around the world.
Mission: Our mission is to build evolutionaries and conscious communities around the world using the "Arkaya Full Spectrum Well-Being Model." Bringing classical Yogic and Tantric wisdom and practices into a modern, accessible context, we empower individuals, organizations, and communities to connect with their highest self and rise to their full potential.
Vision: Our long-term vision is to create an Arkaya retreat center/ashram and a fully sustainable ecological township on the Sunshine Coast, BC and in Tamil Nadu, India.
About Arkaya's Programs
Yogacharini Maitreyi wants more teachers trained in the Traditional healing arts/ sciences to spread this goodness and love to themselves and others. Healing physical, emotional, energetic and mental imbalances is a big component of the Arkaya teacher training. The Arkaya Online 500-Hour Self-Awareness Teacher Training is back after two years off due to COVID-19. We are excited to be offering this as an online program, available to students worldwide. This is a unique program which provides students with an embodied understanding of the depth and breadth of the traditional Indian life sciences of Yoga & Tantra. Led by Arkaya founder, Yogacharini Maitreyi, this program is for students who are interested in taking their spiritual-human development seriously and who want to approach Yoga & Tantra from a place of respect and humility. The transformational power of this life path is very real and proven over thousands of years, the wisdom passed down from teacher to student.
If you feel ready for this kind of a program, please go to our website or email us.
Website: https://www.arkaya.net/teacher-training
Email: infoarkaya@gmail.com
Everyone is welcome to join the online Arkaya Community Class & Satsangh with Yogacharini Maitreyi and the Arkaya Community. A space for healing, belonging and evolution. To register and get your first session for FREE, visit: http://www.arkaya.net/couponcode
What You Will Experience in This Workshop
Arkaya multidimensional practice on the mat
Foundational Arkaya embodiment practices on the mat for 2 hours. A gentle mindful session on the mat to build awareness of body, breath, mind and transpersonal dimensions.
Reconnection practices to gently release trauma and lack of integrity. Focus will be on kriya and chanting that release trauma and tone the vagus nerve.
Shava asana, deep guided relaxation.
Talk on the deeper dimensions of Yoga and Tantra focusing on transforming personal and ancestral karma to elevate relationships.
Karuna saakshi Bhava ( compassionate witnessing) + Self enquiry ( vichara) + vishudhi sadhana ( clear communication)
Experiential self-awareness exercises
Self check-ins and acknowledging feelings
Communication and reconnection exercises with self and others
Communicating feelings and experiences with a partner
If you choose to bring a partner or choose a partner at the event then there will be a conscious clearing and conscious communication practice.
Chikitsa - healing practices
Therapeutic touch to clear energy blocks and allow for savouring ones life.
You can connect with others or staying within your bubble - both aspects welcomed and embraced. You will be guided in how to practice on yourself without a partner, if you choose this option.
Kirthan Singing
Soul song to soothe as well as dissolve edges - Led by Anandji and Yogacharini Maitreyi with Nenad on Tabla. Learn the deeper meaning of the words and significance.
Cathartic Dance Session & Conscious Meditative Movement
Journey to heal unresolved disharmonious patterns. Led by Yogacharini Maitreyi with music by David Yates.
PLEASE NOTE: There will be two 15 minute breaks for snacks and washroom, etc.
Investment
Sliding scale with three options: $90, $120 and $150. Be one of the first 3 people to enroll and get entry for $75. Enrollment is limited to 26 people so please register in advance to secure your space.
Optional Community Dinner:
For those who are interested, there will be a community dinner at East is East in Kitsilano at 7:30 PM
Please email us at infoarkaya@gmail.com by October 20 to reserve your spot at the dinner. After this date, we cannot guarantee a space for you in the reservation.
What to Bring
Yoga Mat
Water bottle
Notebook and pen/pencil
Blanket (optional)
Snack (optional)