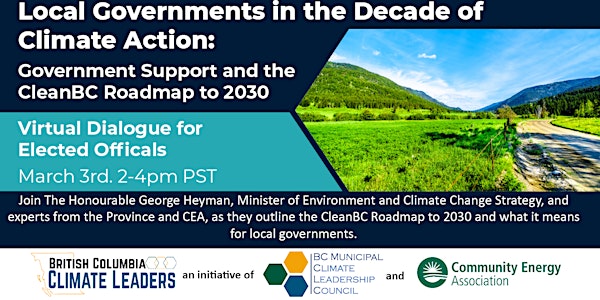 Local Governments in the Decade of Climate Action
Local Governments in the Decade of Climate Action: Government Support and the CleanBC Roadmap to 2030
About this event
Please note that this event is for local elected officials only. Please only register if you're from a local government.
What does the CleanBC Roadmap mean to local governments? Where is the biggest opportunity for communities? The BC Municipal Climate Leadership Council and Community Energy Association are hosting a virtual dialogue for BC elected officials to prepare for the decade of climate action by highlighting the key opportunities of the CleanBC Roadmap.
The dialogue will include presentations from CEA experts and the Province and remarks from the Honourable George Heyman, Minister of Environment and Climate Change Strategy. These presentations will prepare participants for small group dialogues. Participants will have the opportunity to choose to join facilitated breakouts based on specific topics such as buildings and transportation or breakouts for just connecting and networking.
Background on the CleanBC Roadmap to 2030
Local governments influence about half of BC's greenhouse gas emissions through decisions on land use, transportation, and infrastructure that affect where people live and work, how they get around, and how communities grow and change over time. But local governments don't make these decisions in a vacuum. The Government of BC has provided important new information and indicated how it will approach funding, regulations, and policy for climate action in the decade ahead.
The CleanBC Roadmap to 2030 was unveiled by the Province of BC on October 25, less than a week before the COP26 Climate Change Conference opened in Glasgow and only about two months after the UN called the latest report from the IPCC a "code red for humanity."
With so much information about the urgency of climate action, CleanBC focuses on British Columbia, outlines updated targets for greenhouse gas emission reductions, and identifies eight pathways for action. In this dialogue, participants will hear from the Province on an overview of the Roadmap.
What does it all mean for BC local governments? CEA has reviewed the CleanBC Roadmap and will present the potential implications for local governments, focusing on transportation, buildings, and the plans of BC's power and natural gas utilities. Read the report here: https://www.communityenergy.ca/local-governments-and-the-cleanbc-roadmap/.
What is BCMCLC?
The BC Municipal Climate Leadership Council was founded in 2009 and is composed of mayors, councillors, and regional district directors leading on climate action representing communities from across BC —big and small, north and south, east and west. Learn more about BCMCLC's programming at https://bcclimateleaders.ca/.
About CEA
Community Energy Association is a member-based, non-profit organization working since 1995 at the community level to reduce emissions, conserve energy and progressively transition to a low carbon, resilient economy. Learn more at https://www.communityenergy.ca/.