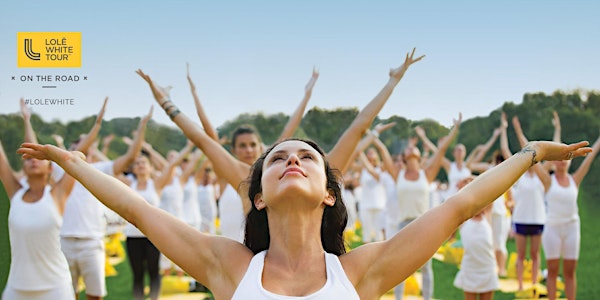 Lolë White Tour On the Road - Richmond (Vancouver) YYoga
When and where
Location
McArthurGlen Outlet 7899 Templeton Station Vancouver, BC V7B 0B7 Canada
Description
Session organized by YYoga, McArthurGlen Outlet and Lolë Outlet Vancouver!
Since 2012, the Lolë White Tour has united more than 50,000 yogis across theglobe through spectacular wellness events in special venues. Following this success, Lolë is taking the Tour to its next level with a new series of community-poweredlocal sessions: Lolë White Tour On The Road.
For its second year, the Lolë White Tour On the Road will take place in over 50 cities across the world, right at the heart of your communities. Take part in the event with hundreds of yogis all dressed in white to celebrate our love for yoga on July 1.
The session will be led by Lolë ambassadors and set to the rhythms of live musical performances. It will be an intimate experience dedicated to inner peace that promises to create unforgettable moments.
Join us! We are so excited to share our passion for wellness with YYoga, McArthurGlen Outlet and Lolë Outlet Vancouver!


---

All on-site participants will receive a free Lolë mat, a Lolë gift bag filled with a Lolë promo card and goodies from your favourite McArthurGlen Designer Outlet brands and local partners!
Schedule
9:30 AM Participants' arrival
10:00 AM Yoga session
11:00 AM End of yoga session
Lineup
Yoga teacher : Amy Molema & Colleen Datt

Live music!
Dress in white, symbol of peace
All yogis should be dressed in white from head to toe. Get inspired with our yoga collection here: http://www.lolewomen.com/ca/en/shop/features/white-kits
The event will take place rain or shine.
Should the forecast call for extreme weather conditions that could cause major delays or changes, we'll let you know within 48 hours of the event. But you might want to have a light white jacket or a rain poncho ready just in case!


---

No refunds
Tickets are final sale and are not refundable. They are easily transferrable, however, and you can transfer them on your own. No need to contact us.
Ticket information
Once you purchase, you will receive an order confirmation email from Eventbrite, Lolë ticketing partner. Your e-ticket(s) will be attached to your order confirmation email.
If you have not received an email confirmation, click here to access the Eventbrite help center.
If you are having any other technical ticketing-related issues with your order, click here to contact Eventbrite. For questions and general informations, click here.
FAQ / Contact us
We invite you to visit the FAQ section in our website. For any other questions regarding the event, please contact your local store at customerservice@coalision.com and for any questions regarding your ticket, please contact Eventbrite
YYoga Studios
YYoga is a community of yoga studio and lifestyle centres dedicated to supporting people in their commitment to whole health. We believe that through the practice of yoga, we ultimately create happier, healthier people, connected to themselves and others. The Vancouver-based yoga and wellness company is the largest corporately owned yoga company in Canada, currently operating 13 studios offering 900 + classes per week in Vancouver, Richmond, Burnaby, North Vancouver, Whistler and Toronto.

McArthurGlen Designer Outlet Vancouver Airport
Imagine grabbing the best deals and latest trends in amongst tree-lined streets, cobblestone walkways and a luxury piazza. McArthurGlen Vancouver, the first designer outlet to open in the Vancouver area, brings you just that. With an open-air village style, tailor-made entertainment and the latest brands up to 70% less - it's a shopping experience like no other.