Description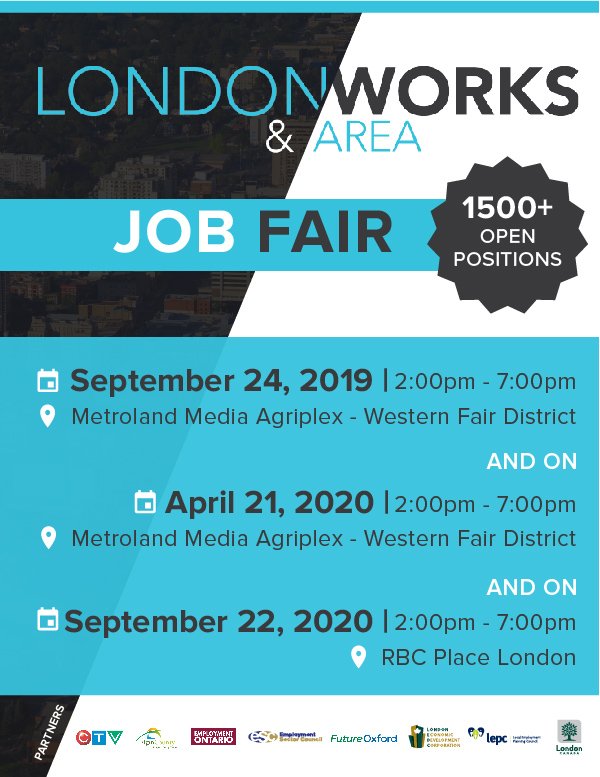 Who should Attend:
Employers with open positions are invited to share their
opportunities with regional talent.
Employment Agencies that advise, prepare and train jobseekers to
access jobs and develop in demand skills.
Download Employers Resource Here
Jobseekers bring your resume, your enthusiasm and your skills to
make your next career connection.
Jobseekers Welcome: Please register to receive a list of the companies and open positions 48 hours before the Event and some Job Search Tips.
You may also attend without registering.
Download Job Seeker Resource Here
---
Number of Job Opportunities Available at the Job Fair:
Over 2500!
Click here to download and print in full
details on all participating companies.
Get the most out of your Job Fair experience:
Job Fair Preparation Resources and Workshops
Watch our "Maximizing your Job Fair Experience"webinar/video for helpful tips and information about London and Area Works Job Fairs

Attend a NO-FEE workshop at one of our community organizations.

Review your resume and/or job fair strategy with a professional.

All are welcome!
We look forward to seeing you at the event!

Learn about all of the upcoming events. Sign up for the LEDC Newsletter by clicking

here
Please be advised that photographs and video may be taken at LEDC events for use on LEDC web, print and social properties. We won't sell your photo, but we may share it with media and/or partner organizations. By attending this and any LEDC event, you consent to being photographed and/or filmed, and to your image or likeness being used at LEDC's discretion.