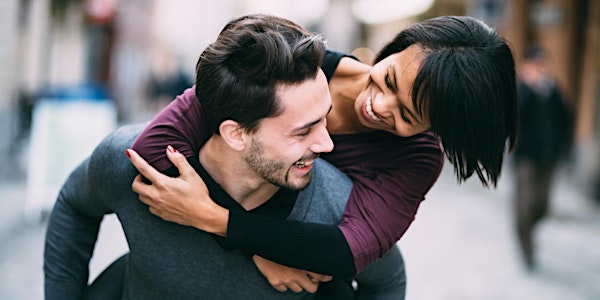 London Speed Dating | Virtual Speed Dating | Ages 18+ (Free)
Tailored matches. On-screen speed dates. Epic after-parties. In other words? Couple virtual speed dating makes meeting people seriously fun
About this event
THE SET UP
At Couple, it's our job to make the awkward first move, not yours.
We set the dates nights, your dates for the night and then put you face-to-face at our virtual speed-dating events. All you have to do is create a Couple account and register for an event.
⮟⮟⮟⮟
THE EVENT
With virtual tables, mingle rooms, and more, Couple events are super social and seriously fun. The date-night vibe is more party than pressure cooker, and that's thanks in large part to the awesome hosts who MC each event. Hosts get you up to speed (dating) before you meet your matches, and they keep the event fun and friendly all night long. Basically, they're the coolest.
⮟⮟⮟⮟
THE DATES
Our matching engine will pair you with your best potential partners. When it's time to meet your matches, you'll go on a series of three-minute dates over private video feeds. Get ready to flirt fast, but don't sweat the small talk. Your host helps break the ice beforehand so that you can tackle your convos with confidence.
⮟⮟⮟⮟
THE DECISION
At the end of each date, it's time to decide if you want to Couple, Connect, or Cut your partner:
Couple = you're down to date again
Connect = you're down for friendship
Cut = you're going to pass on this (mis)match
After the event, check your email. You'll receive your mutual matches' contact info (and vice versa) so you can score that second date or new BFF.
⮟⮟⮟⮟
THE AFTER-PARTY
When the dates are done but your night's just getting started, claim a seat at the after-party.
All Couple events end with this epic event. Bring your own beverage, trivia chops, or secret talent (sometimes things get weird), and stay up late table-hopping and crushing Couple contests in our mingle rooms. Rumor has it the after-party is as fun as the main event.