London's VOICE Civic Engagement Fair
When and where
Location
Goodwill Community Building 3rd floor 255 Horton St E London, ON N6B 1L1 Canada
Description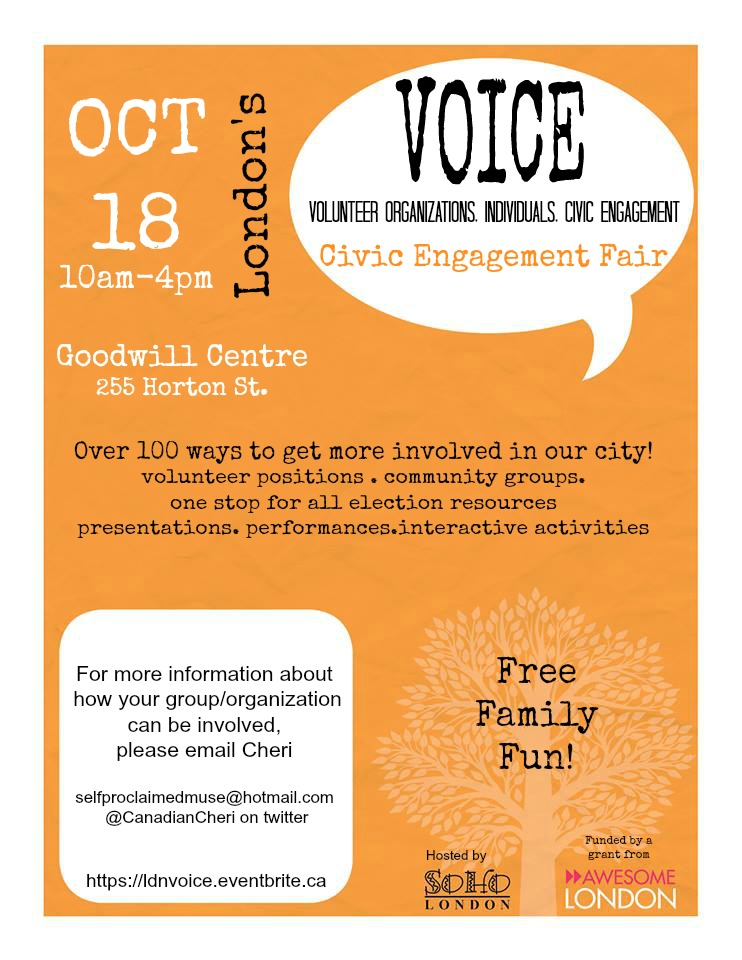 With over 100 different ways you can become a more involved Londoner, our civic engagement fair will give you a sampler of community groups, volunteer opportunities, and activities for you to choose from.
With a full schedule (coming soon) of speakers, presenters and performers on the main stage, it will be a fun filled day! Drop by the Goodwill Centre 3rd floor, for an hour or stay the whole day and have lunch at Edgar and Joe's, and bargain shop in Goodwill while you're here!
Election information will be made available for all candidates who wish to participate. Volunteers can help you find what ward you are in, whether or not you are registered and where you go to vote in your ward. Each ward will have a table to present you with the candidate information as well as showcase the wards best assests in the form of community groups, unique settings & locations and other hidden gems you may not know about.
Special interest groups in a variety of areas will be available to tell you what they are about and tell you how you can be a part of them. If your group is interested in being involved, please fill in our Exhibitor Form http://selfproclaimedmuse.com/892-2/voice-exhibitors-page/
Social - Enviromental - Political - Arts -
Students: Do you have all the volunteer hours you need to graduate? Looking for some experience on your resume? Want to make some new friends outside your school?
Join us! Get Engaged!
This is a free event/ no ticket needed, but please RSVP as a show of support and to let us know who is coming!
Donations for the London Foodbank are appreciated and will be collected.
If you are part of a group/organization that you think I should know about or you wish to volunteer either in the planning process or the day of the event, please contact
CivicEngagementFair@gmail.com or
Cheri at selfproclaimedmuse@hotmail.com.
Thank you to all the people, places and things who have contributed to and supported this project!