A complimentary virtual conference on long COVID implications and the impact on today's workforce.
About this event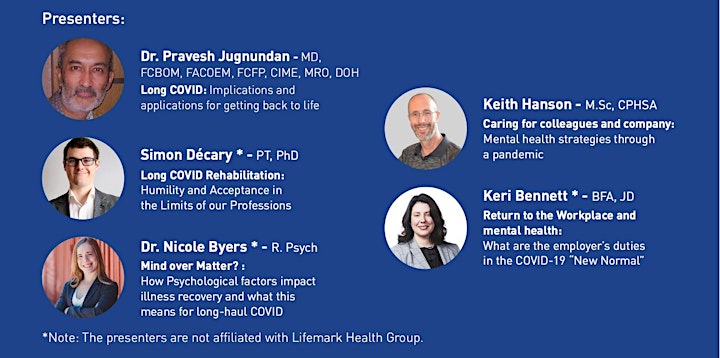 For you reference, here is the conference Webinar link the attendees will use:
https://teams.microsoft.com/l/meetup-join/19%3ameeting_Njc0MjQ5NTMtYjk0ZC00YjdmLWFlNWYtNDJiYjI0MTU1NWMw%40thread.v2/0?context=%7b%22Tid%22%3a%2210f90997-bfbb-41c4-9630-b2bfed8d8a41%22%2c%22Oid%22%3a%222d37a87b-2df8-4520-bf70-5638bd141184%22%7d
AGENDA:
Note: All times listed below are EST!
12:00 p.m. EST
Welcome and Introductory Remarks – Rene Huellstrung, Director, Alberta RTW Programs and National WorkSafe Partnerships
12:04-12:25 p.m.
Session 1: Dr. Pravesh Jugnundan - MD, FCBOM, FACOEM, FCFP, CIME, MRO, DOH
Long COVID: Implications and Applications for Getting Back to Life
This session will address many of the key questions being asked about long COVID. What is long COVID and what are the signs and symptoms of it? If my patient has got long COVID, what is the process for getting better and how do I treat it as a physician? What is the latest research into Long COVID and how do we address some of the fears of return to work of the general population?
12:25-12:45 p.m.
Session 2: Simon Décary - PT, PhD
Long COVID Rehabilitation: Humility and Acceptance in the Limits of our Professions
This session will share the results on the safety of a multidisciplinary intervention for Long COVID based on the Stop. Rest. Pace approach. Dr. Décary will share insights on how patient-partnerships with Long COVID and Chronic Fatigue Syndrome (myalgic encephalomyelitis) patient communities is showing the way toward safe rehabilitation.
12:45 – 1:05 p.m.
Session 3: Dr. Nicole Byers - R. Psych
Mind over Matter? How Psychological Factors Impact Illness Recovery and What This Means for Long-Haul COVID
This presentation will share how psychological factors can impact recovery after any illness, including how psychological factors could contribute to speed of recovery and prolonged symptoms, including long-COVID.
1:05 p.m. Five minute break
1:10-1:30 p.m.
Session 4: Keith Hanson - M.Sc, CPHSA
Caring for Colleagues and Company: Mental Health Strategies through a pandemic
The pandemic has impacted all of our lives both personally and professionally. The impact on our mental health has been undeniable and how employers respond to the aftermath and deal with uncertainties that are still present will define their future success. This session will highlight challenges in mental health and some key strategies for employees to care for their own mental wellbeing and for employers to create mentally healthy workplaces for the long-haul.
1:30-1:50 p.m.
Session 5: Keri Bennett - BFA, JD
Return to the Workplace and Mental Health: What are the Employer's Duties in the Covid-19 "New Normal?"
This session will focus on workplace accommodation for those with Mental Health issues. Specifically, what are the employers duties in having their employees return to the workplace following being at home working due to COVID and/or having contracted COVID and/or a person close to them? Employers are indicating that some employees are saying that they can't return to the workplace, want to continue to work at home and that returning to the workplace is causing them anxiety. How do employers handle this and what are their rights?
1:50-2:30 p.m.
Session 6: Panel discussion on questions raised about Long COVID
2:30-2:50 p.m.
General Q&A session
2:50 p.m.
Concluding Remarks and Thanks - Rene Huellstrung, Director, Alberta RTW Programs and National WorkSafe Partnerships
Who should attend?
Case managers, adjusters, employers, healthcare professionals, disability management professionals, human resources and health & safety professionals.
For more information, please contact Rene Huellstrung at rene.huellstrung@lifemark.ca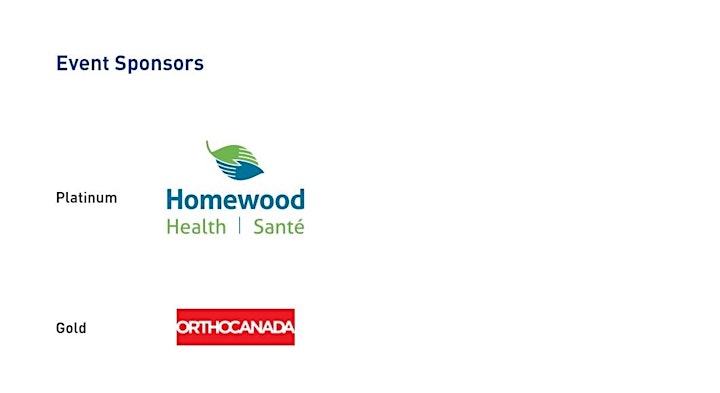 Organizer of Long COVID: Implications and applications for getting back to life
Lifemark Health Group is a proudly Canadian healthcare company, providing diversified services across the country. We have over 20 years of experience providing rehabilitation, medical assessments, seniors wellness and sport medicine programs.
With over 2500 highly-trained clinicians and medical experts in over 300 locations, we are one of Canada's most trusted healthcare organizations.
You deserve and should expect the highest quality of care. That's why we hire the best practitioners in the field — professionals with the right qualifications, experience and expertise. They will develop customized rehabilitation programs to help you achieve optimal health, quick recovery from illness, injury or surgery.
We offer a multitude of rehabilitation programs and assessment services that are accredited by CARF International, an achievement that signals our commitment to high-quality services.
When you move better, you feel better. That's why we're committed to helping you live your life to the fullest with our diverse suite of rehabilitation services. From physio, sport medicine, chiropractic and massage to specialty services like concussion, pelvic heath, cancer care and more we've got you covered.