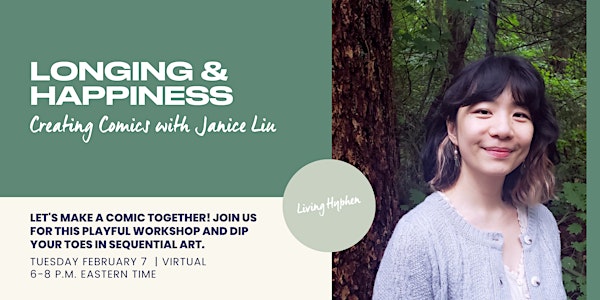 Longing & Happiness: Creating Comics with Janice Liu
Let's make a comic together! Join us for this playful workshop and dip your toes in sequential art.
Refund Policy
Contact the organizer to request a refund.
Eventbrite's fee is nonrefundable.
About this event
Living Hyphen is proud to partner with comic artist Janice Liu to bring you a special workshop that will explore the art of creating comics!
How do text and images work together in comics? This is a workshop for writers wanting to dip their toes into sequential art. We'll discuss how different panel layouts and camera angles are used intentionally by cartoonists.
Our theme is longing and happiness. During the workshop, you will journal your responses to two prompts. You will then plan and draw a one-page comic based on your journaling responses. Your comic can be as fictional or autobiographical as you'd like.
Absolutely no experience is necessary. You will need a steady Internet connection to join us online, a notebook for journaling, blank paper for drawing, a ruler, a pencil, and an eraser. You may also want to have an inking pen and colouring tools handy.
Let's make a comic together!
To learn more about our programming, please visit www.livinghyphen.ca.
About Financial Accessibility
At Living Hyphen, we believe strongly in making our programs financially accessible, which is why we always offer a few subsidized spaces.
If you would like to make a donation to offer a fully subsidized experience for a participant, please get in touch with us at hello@livinghyphen.ca.
ABOUT YOUR FACILITATOR: JANICE LIU
Janice Liu is a kids' comic artist based near Vancouver, BC. Her graphic novel with Naomi Cui, Chicken Soup & Goji Berries 中药鸡汤, was a 2020 Excellence in Graphic Literature Award finalist, and a Gene Day Award nominee. Janice teaches children's art classes full-time, and runs quarterly art workshops for teens at her local library. This is one of her first comic workshops for adults!
ABOUT 'CHICKEN SOUP & GOJI BERRIES' 中药鸡汤
Chicken Soup & Goji Berries is a graphic novel by Naomi Cui and Janice Liu. The kids of the Yang family, have spent most of their lives in Canada. Having their Nainai from China move in with the family is a big change for them. From having to turn down the volume of their cartoons, to being awakened by the soy milk machine at 7 AM, Jeannie, Ethan, and Cindy have much to get used to. But it's not just the day-to-day routine that's changed now that Nainai is in their lives — there's something different in the air, something magical.