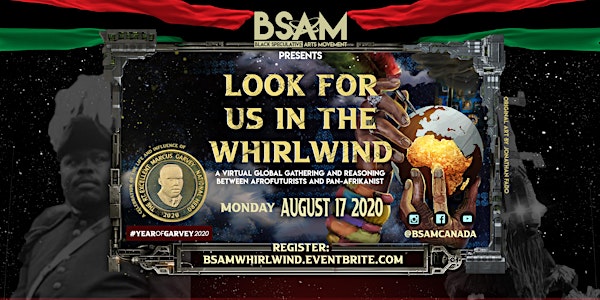 Look For Us In The Whirlwind
A Virtual Global Gathering of Afrofuturists and Pan-Afrikanists
About this event
This event is a global Pan-African virtual gathering to honour Marcus M. Garvey Jr.'s legacy. It will feature a keynote from Dr. Julius W. Garvey, the youngest son of Marcus and Amy Jacques Garvey.
The Honourable Marcus M. Garvey Jr. was born in Jamaica in 1887 and is known for his profound views that helped propel Black Nationalist and Pan-Africanist movements. He believed that people of the African diaspora must find their way back to Africa through pride and dignity in their cultural expression. He founded the Negro World newspaper, Black Star Line shipping company and, most notably, the Universal Negro Improvement Association (UNIA) - created in 1914 as a means to unite black people globally, cultivate pride and economic sustainability for black people, and to create a self-reliant nation in Africa.
Along with being a prominent civil rights activist, Garvey was a strong advocate for the arts being a poet, storyteller and avid enthusiast of dance and African artwork. He once said, "Liberate the minds of men and ultimately you will liberate the bodies of men."
Dr. Julius W. Garvey is a surgeon and medical professor born in Kingston, Jamaica where he attended the Wolmer's Trust High School for Boys. He earned his B.S degree from McGill University in 1957 and M.D., C.M. degree from McGill University Faculty of Medicine in 1961. Dr. Garvey is of the firm belief that African people need to carry forth the work that previous leaders have instilled. He holds dear the ideas his father first voiced on ensuring that people of the African diaspora are self-sufficient and that there is unity between those on the continent and those located throughout various regions of the world. Since 2016, Dr. Garvey has pushed to clear his father's name and receive a pardon from the U.S. government so that his father's contributions are fully recognized.
Event Details
The Look for us in the Whirlwind event shares what Afrodiasporic creatives are doing to build towards a more efficient and sustainable Africentric future. It features a gathering of Pan-Africanist and Afrofuturist speakers that will share messages focused on education, the arts (healing, culinary, visual, literary, performance etc.) and community development (food sovereignty, investment, infrastructure etc). Afrofuturism 2.0 explores the notions of Garvey's Pan-African vision of imagining new transnational connections and possibilities. This gathering is not only to celebrate the life of the Honourable Marcus Garvey but also the legacy he planted that speaks to a prophetic Afrofuturistic vision of unifying and self-empowering African people.