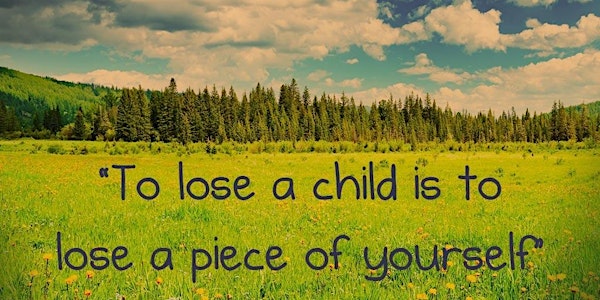 Loss of Child (10 Week Grief & Bereavement Support Program)
Sales Have Ended
Registrations are closed
Registration for this program has ended. If you are interested in registering, please email office@bfo-ottawa.org to determine availability. Bereaved Families offers this program in the spring and fall each year. Thank you. Bereaved Families of Ontario - Ottawa Region
Event Information
Location
The Bronson Centre
211 Bronson Avenue
Room 303 (Bereaved Families of Ottawa)
Ottawa, ON K1R 6H5
Canada
Sales Have Ended
Registrations are closed
Registration for this program has ended. If you are interested in registering, please email office@bfo-ottawa.org to determine availability. Bereaved Families offers this program in the spring and fall each year. Thank you. Bereaved Families of Ontario - Ottawa Region
Description
This 10-week peer support group program is aimed at supporting individuals through a deeper exploration of their grief experience following the death of a child.
It is a semi-structured group with a different grief topic discussed weekly. Participants are with the same group of people for the full 10 weeks.
This program provides a supportive and non-judgmental space to be in grief, to share and to listen; where those who've experienced the loss of their child, can connect with others who've lost a child.
Peer groups help reduce the isolation that many people experience in grief and provide hope that healing is possible. This peer support group is facilitated by trained facilitators who've also experienced the loss of a child, and have received support and want to help others heal. The program is overseen by a professional bereavement consultant.
Attendance is limited to 10 participants who must meet eligibility criteria. (Please complete pre-registration form, to follow, within Evenbrite.)
The program runs every Thursday, 7:00 to 9:00 p.m., from Oct 5th to Dec 7th, 2017.
Bereaved Families of Ottawa does not receive ongoing government funding and relies solely on donations to deliver its programs. The suggested donation for this program is $250 (with income tax receipt).
We understand not everyone is able to make a suggested $250 donation. If you can donate in installments, or can make a partial donation, or don't have the ability to make a donation, please contact our office at 613.567.4278 or office@bfo-ottawa.org. We have a limited number of subsidies available. If you require a subsidy, please contact the office before continuing on with the pre-registration within Eventbrite.
Date and time
Location
The Bronson Centre
211 Bronson Avenue
Room 303 (Bereaved Families of Ottawa)
Ottawa, ON K1R 6H5
Canada