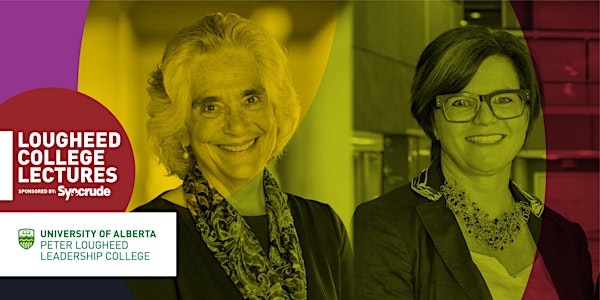 Lougheed College Lectures hosts Persis Drell & Heather Zwicker
Sales Have Ended
Registrations are closed
Thank you for your interest in the Lougheed College Lectures. We look forward to listening, learning, and leading with you!
Sales Have Ended
Registrations are closed
Thank you for your interest in the Lougheed College Lectures. We look forward to listening, learning, and leading with you!
Dr. Persis Drell (Stanford University) & Dr. Heather Zwicker (The University of Queensland) share how their universities handled COVID-19.
About this event
The 2020-21 Lougheed College Lecture series is organized around the theme of leadership and public institutions. Governments, courts, universities, cultural institutions, public health agencies, financial regulators and other offices charged with ensuring the public good face special scrutiny from the people they serve. We expect our tax-funded institutions to deliver value for money, and to act ethically and responsibly to ensure citizen well-being. And we have high demands for accountability and responsiveness. What does it take to lead such organizations, especially when the decisions are fraught and the stakes are high? How do public leaders engage the people they serve in decision-making? How do they address dissent and controversy? What are the consequences of "fake news," the growing skepticism around expertise, and political polarization for the necessary work of serving the public good? Our speakers will tackle these challenging issues with hard-won insights from the front lines.
Persis Drell & Heather Zwicker address the topic, Universities and COVID19 – One year after. Perspectives from the United States and Australia as featured guests of the Lougheed College Lectures.
Join Dr. Persis Drell, Provost, Stanford University and Dr. Heather Zwicker, Executive Dean, Humanities and Social Sciences, The University of Queensland to learn about the strategies, challenges, and decisions they faced as senior university leaders in the unprecedented crisis of COVID-19. In the face of a global pandemic, universities' primary obligation was to keep students, staff and faculty safe. Understanding how institutions met that obligation – addressing teaching, research and budget issues in distinctive settings with unique political dynamics (local, regional and national) – offers rare insight into the decision-making processes at world-leading universities.
Be informed, challenged, and inspired by local, national, and international leaders from government, business, academia, and the cultural and nonprofit sectors. The Lougheed College Lectures sponsored by Syncrude present exceptional speakers from interdisciplinary backgrounds. They will share their perspectives and insights on the leadership needed to face the complex challenges of the 21st century.
FAQs
How can I contact the organizer with any questions?
Please contact the PLLC General Office by phone at 780.248.1305 or email at pllc@ualberta.ca during regular business hours (8:30 AM - 4:30 PM).
Organizer of Lougheed College Lectures hosts Persis Drell & Heather Zwicker
The Peter Lougheed Leadership College at the University of Alberta is an undergraduate leadership development experience that will forge leaders through formal and co-curricular learning, engagement and mentorship. The PLLC promotes lively interaction among students, the college's founding principal, U of A faculty leaders, distinguished visiting scholars, and global leaders—all united by a desire to influence and inspire positive change in themselves and others.