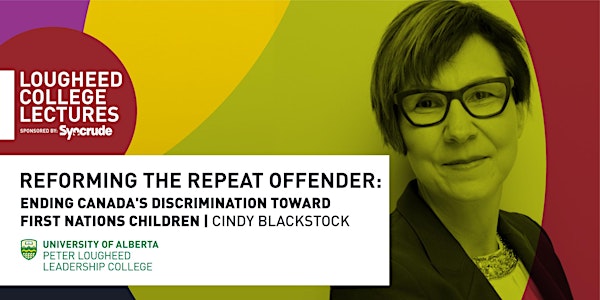 Lougheed College Lectures sponsored by Syncrude hosts Cindy Blackstock
Celebrating its sixth year, the 2020/2021 Lougheed College Lectures are organized around the theme of leadership and public institutions
About this event
The 2020-21 Lougheed College Lecture series is organized around the theme of leadership and public institutions. Governments, courts, universities, cultural institutions, public health agencies, financial regulators and other offices charged with ensuring the public good face special scrutiny from the people they serve. We expect our tax-funded institutions to deliver value for money, and to act ethically and responsibly to ensure citizen well-being. And we have high demands for accountability and responsiveness. What does it take to lead such organizations, especially when the decisions are fraught and the stakes are high? How do public leaders engage the people they serve in decision-making? How do they address dissent and controversy? What are the consequences of "fake news," the growing skepticism around expertise, and political polarization for the necessary work of serving the public good? Our speakers will tackle these challenging issues with hard-won insights from the front lines.
Cindy Blackstock addresses the topic, Reforming the Repeat Offender: Ending Canada's discrimination toward First Nations children as a featured guest of the Lougheed College Lectures.
The federal government accepted a Canadian Human Rights Tribunal decision in 2016 finding them racially discriminating against over 165,000 First Nations kids in ways that contributed to thousands of unnecessary family separations yet it has taken 11 further orders (and counting) for them to begin addressing the problem. This presentation reviews this landmark case from the perspective of those in the community and explores why Canada remains so resistant to internal reform even after the repeated harms it has foisted onto First Nations children via residential schools, the 60's scoop and the CHRT orders.
Be informed, challenged, and inspired by local, national, and international leaders from government, business, academic, and the cultural and nonprofit sectors. The Lougheed College Lectures sponsored by Syncrude present exceptional speakers from interdisciplinary backgrounds. They will share their perspectives and insights on the leadership needed to face the complex challenges of the 21st century.
FAQs
How can I contact the organizer with any questions?
Please contact the PLLC General Office by phone at 780.248.1305 or email at pllc@ualberta.ca during regular business hours (8:30 AM - 4:30 PM).