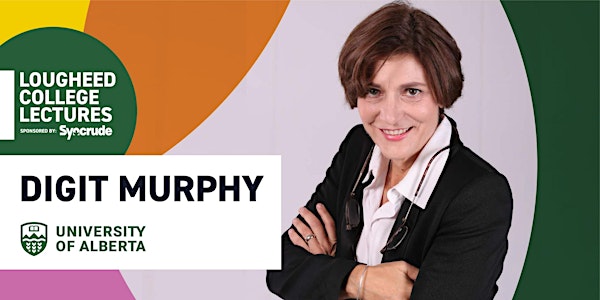 Lougheed College Lectures sponsored by Syncrude hosts Digit Murphy
Sales Have Ended
Registrations are closed
Thank you for your interest in the Lougheed College Lectures. We look forward to listening, learning, and leading with you.
Sales Have Ended
Registrations are closed
Thank you for your interest in the Lougheed College Lectures. We look forward to listening, learning, and leading with you.
Celebrating its 7th year, the 2021-22 Lougheed College Lectures are organized around the theme of leadership skills for an altered present.
About this event
Digit Murphy presents A Coach's Approach to Decision Making as a featured guest of the Lougheed College Lectures.
President of the Toronto Six and founder of Team Ruth, Digit Murphy has led teams and organizations to various milestones and victories despite the challenges faced with decisive decision-making. From NCAA to professional hockey, and jump-starting the women's professional lacrosse league UWLX, Digit is pioneering an educational women's business model for the 21st century, and her strategies can be used by leaders in any field.
Now more than ever, the pandemic has shown us the importance of transformational leadership within sports and other communities. It requires coaching, leading, and recruiting through lenses such as gender diversity, empathy, resiliency, and risk-taking. Digit's philosophy is infinite in its shelf life; ultimately aiming to create heroes and role models that the next generation can look up to. In her presentation at the Lougheed College Lectures, she'll share how you too can harness decision-making and other leadership skills for success.
Margaret "Digit" Murphy (Hockey) Digit Murphy is an innovator, visionary, and builder in the women's sports world. In April 2020 she accepted a role as the President of the first NWHL Professional Women's Professional Hockey Franchise in Canada. Previous to that, Digit was working on a startup that was impacted by the COVID 19 pandemic. Before that She worked to help the professional men's hockey organization in the KHL, Kunlan Red Star to build women's hockey in China in preparation for Bejing hosting the 2022 winter Olympics. Digit Murphy is the current founder of United Womens Sports-an innovative and disruptive model in the women's sports space. UWS is about building a new paradigm shift for the women's sports world. She developed the Sport Ambassador model in China for Kunlun Red Star Hockey Club. Paying the players is a priority for Digit and she prides herself on challenging the existing markets and models in women's sports. Under Digit's direction the upstart KRS team in the CWHL was narrowly inched out of a first place league finish and they finished as runner ups in the CWHL final game. In 2013 and 2015 Digit coached the Boston Blades to 2 Clarkson Cup championships in three years. Digit also has over twenty years of coaching experience since her start at Division I Brown University. She has coached Olympians and All-Americans, and earned numerous ECAC and Ivy League titles. A key component to Digit's coaching philosophy is the belief in the growth of women's presence in ice hockey and coaching, a passion she incorporates into all her work
Be informed, challenged, and inspired by local, national, and international leaders from government, business, academica, and the cultural and nonprofit sectors. The Lougheed College Lectures sponsored by Syncrude present exceptional speakers from interdisciplinary backgrounds. They will share their perspectives and insights on the leadership needed to face the complex challenges of the 21st century.
The 2021-22 Lougheed College Lectures are organized around the theme of Leadership Skills for an Altered Present. Engaging key leadership competencies, each of our renowned speakers will offer their unique perspectives on a distinct skill, and reflect on the impact that our pandemic experience has made to our understanding and practice of leadership. Covering mentorship, team-building, good relations, advocating for a point of view, and self-compassion, among others, the lecture series will provoke, equip and inspire audience members with new ideas and approaches with which to make a difference in their lives and communities.
FAQs
How can I contact the organizer with any questions?
Please contact the PLLC General Office by phone at 780.248.1305 or email at pllc@ualberta.ca during regular business hours (8:30 AM - 4:30 PM).
Are the virtual lectures recorded?
Yes. The lecture will be recorded and posted after the event on the PLLC website: uab.ca/lcl.
How do I access the livestream?
An email will be sent to all registrants a couple days before the event containing a link for the livestream.
Organizer of Lougheed College Lectures sponsored by Syncrude hosts Digit Murphy
The Peter Lougheed Leadership College at the University of Alberta is an undergraduate leadership development experience that will forge leaders through formal and co-curricular learning, engagement and mentorship. The PLLC promotes lively interaction among students, the college's founding principal, U of A faculty leaders, distinguished visiting scholars, and global leaders—all united by a desire to influence and inspire positive change in themselves and others.