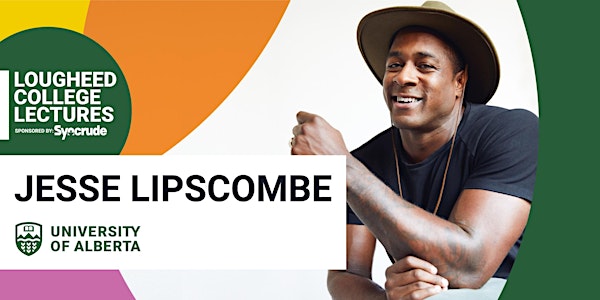 Lougheed College Lectures sponsored by Syncrude hosts Jesse Lipscombe
Jesse Lipscombe presents on advocacy in a free public presentation as part of the Lougheed College Lectures sponsored by Syncrude.
About this event
Jesse Lipscombe presents on Advocating for a position as a featured guest of the Lougheed College Lectures.
Jesse Lipscombe is an actor, producer, entrepreneur and activist based in Edmonton, Alberta. Born and raised in St. Albert, Jesse started his acting career at age 14 alongside Sidney Poitier in the Calgary-shot film Children of the Dust. At 18, he received a full track-and-field scholarship to Martin Luther King Jr.'s alma mater, Morehouse College, in Atlanta, Georgia. Jesse went on to win multiple national high-jump championships in both Canada and the U.S., and was ranked 6th in the world in his sport.
Back in Edmonton, Jesse launched a full entrepreneurial and artistic career, opening fitness studios and restaurants, while continuing to act and produce in award-winning film and television productions. Jesse has been nominated for several Canadian Screen Awards and Alberta film and television awards.
About the Series
Be informed, challenged, and inspired by local, national, and international leaders from government, business, academia, and the cultural and nonprofit sectors. The Lougheed College Lectures sponsored by Syncrude present exceptional speakers from interdisciplinary backgrounds. They will share their perspectives and insights on the leadership needed to face the complex challenges of the 21st century.
The 2021-22 Lougheed College Lectures are organized around the theme of Leadership Skills for an Altered Present. Engaging key leadership competencies, each of our renowned speakers will offer their unique perspectives on a distinct skill, and reflect on the impact that our pandemic experience has made to our understanding and practice of leadership. Covering mentorship, team-building, good relations, advocating for a point of view, and self-compassion, among others, the lecture series will provoke, equip and inspire audience members with new ideas and approaches with which to make a difference in their lives and communities.
FAQs
How can I contact the organizer with any questions?
Please contact the PLLC General Office by phone at 780.248.1305 or email at pllc@ualberta.ca during regular business hours (8:30 AM - 4:30 PM).
Are the virtual lectures recorded?
Yes, however due to copyright issues the recording cannot be posted for public viewing.
How do I access the livestream?
An email will be sent to all registrants a couple days before the event containing a link for the livestream.