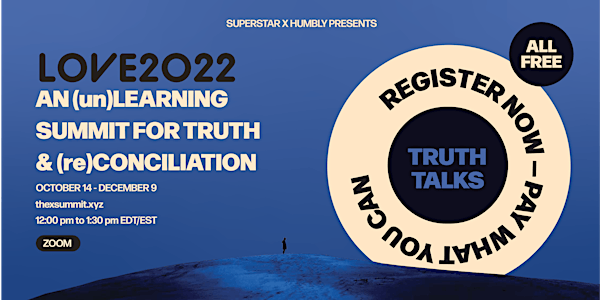 LOVE 2022 Truth Talks
Truth Talks bring Indigenous Peoples and their allies together to face the Truth of Canada's past and present, for a better future for All.
About this event
From October 14th to December 9th, every Friday, Indigenous and non-Indigenous Peoples come together to speak their Truth, for the purpose of (un)learning Canada's past and present to ultimately transform a future for the betterment of All Our Relations.
LOVE 2022 TRUTH-TELLERS:
Truth Talk 1 - "Quilts for Survivors," on Friday, October 14th
When Tk'emlúps te Secwépemc confirmed the remains of 215 children onsite at Kamloops Indian Residential School, Vanessa Génier knew she needed to do something to help with the healing journey. Vanessa decided to make "comfort quilts" and gift them to Survivors of Indian Residential Schools. She founded "Quilts for Survivors" and has started a global movement of healing.
Truth Talk 2 - "The Truth in Truth and Reconciliation," on Friday, October 28th
James Darin Corbiere shares his journey to create an educational resource in the form of a board game to teach about the "Truth in Truth and Reconciliation." Darin was a former police officer and a secondary school teacher in Ontario. When the Truth and Reconciliation Commission of Canada's Final Report was released in 2015, the Ontario Teachers Secondary School Federation put together a group of Indigenous educators to design a toolkit to teach Federation members. So, he created a trivia board game called "Truth in Truth and Reconciliation." It is a trivia game that teaches about the true relationship between Canada and Indigenous Peoples who live here. He has started a Go Fund Me so that he can GIVE AWAY copies of the board game and a 100-page "Genuine Indian Guidebook."
Truth Talk 3 - "First Nations 101," on Friday, November 4th
Lynda Gray, a member of Ts'msyen Nation, shares valuable insights from her book, First Nations 101 (available for purchase on Lynda's website: www.FirstNations101.com), which "provides an overview of the day-to-day lives of Indigenous people, traditional Indigenous communities, colonial interventions used in an attempt to assimilate Indigenous people into mainstream society, the impacts those interventions had on Indigenous families and communities, and how Indigenous Peoples are working towards holistic health and wellness today." Lynda's work helps to inform and inspire everyone along their ongoing journey of Truth and (re)Conciliation.
Truth Talk 54- "Treaty Talk - Sharing the River of Life (2019)," on Friday, November 11th
This is the first documentary in a series of three, produced by Dr. Patricia Makokis. In preparation for this Truth Talk, we invite you to watch "Treaty Talk" and note any questions, insights, and actions that you'd like to share.
Truth Talk 5 - "Power of One" by Neil Orlowsky
Neil Orlowsky, MEd, PhD, is an ardent supporter of Human Rights and Peacebuilding, who was recently invited by Treaty Three Police Officer, Chief Kai Lu, to speak on the power of perseverance, the power of the upstander, and the Abraham Global Peace Initiative's (AGPI's) Power of One Human Rights Exhibit to more than fifty Indigenous students and Indigenous police officers across Canada.In this Truth Talk, as the Director of Education and Chair of Global Education for AGPI, Neil will be sharing "Power of One" initiative, which illustrates how one person can "take action to make the world a better place." Among the "Power of One" contributors is Cogwagee (Thomas Charles Longboat), who was an Onondaga distance runner from the Six Nations Reserve near Brantford, Ontario.
Truth Talk 6 - "All My Relations: How to Navigate ReconciliACTION" by Kaitlyn Wilcox and Nan McLeod
Kaitlyn Wilcox (she/they), a Potawatomi, Métis, and settler Two-Spirit person, and Nan McLeod, an Indigenous Queer Anishnaabeg Adoptee from Neyashiingimiing will be sharing their perspectives on ReconciliACTION, including statistics of colonialism, settler responsibility, and how to enter reconciliative relationships in a culturally safe way.
MORE INFO: www.thexsummit.xyz
PAY WHAT YOU CAN:
While all of LOVE 2022's events are free to register, if you're able to pay an amount to help Superstar X continue co-creating goodness, like LOVE 2022, which includes equitably paying presenters, please pay what you can via the PayPal link or e-transfer address below:
PayPal Link: click here
E-Transfer Address: love2022@superstarx.xyz
Note: In addition to each presenter's rate,10% of funds raised will be divided evenly amongst the Truth-Tellers.
Kanien'kéha
Chi-Miigwetch
Thank you very much
Merci beaucoup
LOVE 2022 SPONSORS:
❤️ Superstar X
❤️ Tino Vision
❤️.XYZ