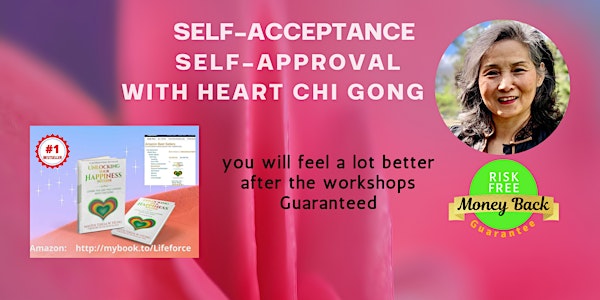 Love, Appreciate, Accept and Approve Yourself with Heart Chi Gong
Heal the heart
Refund Policy
Contact the organizer to request a refund.
Eventbrite's fee is nonrefundable.
About this event
Unlocking Your Happiness Within: Living the Life You Choose with Chi Gong.
Are you feeling that you are 1 step forward and 2 steps backward recently especially during the pandemic?
Are you feeling emotionally trapped and feeling tired of unable to let go difficult emotions?
Are their lots of voices in the mind affecting your sleep?
Your mission if you accept is to join a 3-Sunday workshops of 2 hours which you will be guided to return to your heart centre to clear the negatives energies with Heart Chi Gong with the healing from Master Teresa and feel the new peace in your for manifesting a successful 2022.
We have 3 important areas that will really help you:
(1) First week - Release the negative energies which stop you from loving and appreciation yourself with Heart Chi Gong
(2) Second week - Release the negatives energies which stop you from accepting yourself with Heart Chi Gong
(3) Third week - Release the negative energies which stop you from approving yourself with Heart Chi Gong
Money Back Guarantee
After taking the first Heart Qi Gong Workshop, if you find the workshop has no value, we are glad to refund you per your request.
JOIN US TODAY!
Master Teresa's Qi Gong beats all drugs in overall health improvements
~ C. Norman Shealy, MD, PhD
Founding President, American Holistic Medical Association
Background of Master Teresa
Master Teresa Yeung is an internationally recognized modern Chi Gong Master, speaker, healer, thought leader and 3-time #1 international award winning bestselling author. She is the founder of Pureland International Qi Gong , a certified private institution. She is the successor of Grandmaster Weizhao Wu's lineage. Wu was a distinquished Chi Gong master, educator and creator of the highly successful Wu's Eye Qi Gong helped millions of people. You can visit her website at www.purelandqigong.com (Pureland International Qi Gong) or her personal website (MasterTeresa.com) for more information. Please contact her via MT@purelandqigong.com for any questions.
When the students are ready, the teacher appears!
Comments from Students:
(1) Master Teresa is truly gifted and a gift to us all. Fantastic group workshop and an eye-opening experience of how so much healing can happen with so little movement from anyone and no direct touch from the healer. Very highly recommend to anyone to start the journey of healing and personal discovery ~ Tristan
(2) This is a wonderful group workshop with Master Teresa. It focuses on the challenges of emotional pain. Master Teresa explains through her own experiences, how past pain that has not been acknowledged and processed, can have a huge negative impact on our well-being. She also shares a powerful heart Qi Gong exercise that can easily be done at home and as many times as necessary. When we did the exercise during the workshop, I felt her healing energy come through, and felt calmer and at emotional peace, afterwords. Wonderful workshop, which I would recommend to anyone that might be dealing with some emotional pain.
Thank you Master Teresa for offering it to us during these challenging times!
(3) This is a powerful session with Master Teresa. I felt less intensity in strong emotions I was experiencing. The class was so powerful, I slept 10 hours that night, nearly twice as long as I normally need to sleep.
I love Master Teresa's accessible and humorous approach.
Thank you!
(4) Master Teresa is a very caring and knowledgeable Qi Gong practitioner. She asks the right questions to fully understand and determine how best to help. I would highly recommend attending her sessions if you are looking for an effective and alternative way to improve your health and overall well-being.
(4) Master Teresa's work is very beautiful. She heals with kindness, grace, and humor. I suffer from chronic pain in several areas of my body. My profession also brings me great stress and causes my mind to feel foggy, and I often find it hard to focus on my work. After only one session, my physical pain was reduced dramatically. That said, what I was most impressed with was how much clearer my mind felt. I didn't feel fatigued or drowsy. I felt energized, relaxed, and clear-headed. I am going to continue to work with Master Teresa, and I plan to learn qi-gong as well.
Thank you, Master Teresa!
(5) I had the pleasure of attending Master Teresa's class and was amazed by her intuition and intense healing energy, combined with her kindness and genuine desire to help. The healing technique I learned is extremely powerful and has helped me to feel more connected to myself in a loving way. I would recommend this class to everyone. Thank you so much, Master Teresa.
(6) I learned some REALLY powerful techniques to change the way I feel about myself and others—so thankful to have done this. I will definitely do it again!
(7) Thank you very much dear Master Teresa! It was my very first remote healing session. After the session, I feel lightness in my chest and calmness in my mind. Still I feel it.
During the session, I really felt seeing and talking to my nephew like face to face.
You also helped me to shift my own wrong thoughts into the better thoughts so feeling more brave. I am looking forward to my next session.
(8) And, I'm so glad I did. The annoying buzzing in my left ear, was gone just after few hours during the first day of workshops! The uncomfortable pain in my right knee, seemed to vanish by the end of that first day. And, through it all, I felt so calm.
And, on the last day shortly before we parted ways, you tapped into some unresolved passed issues that apparently, still have a strong impact on me. Even though that was the last thing I wanted to deal with, you so kindly and lovingly walked me through it and shared your healing energy, to assist me. That defiantly was not part of the workshop curriculum, yet, you were there willing to assist me. I admire your selflessness and I will forever be grateful, for your kindness. You will be hearing from me again.
Thank you from the bottom of my heart! Love, Nina"