Description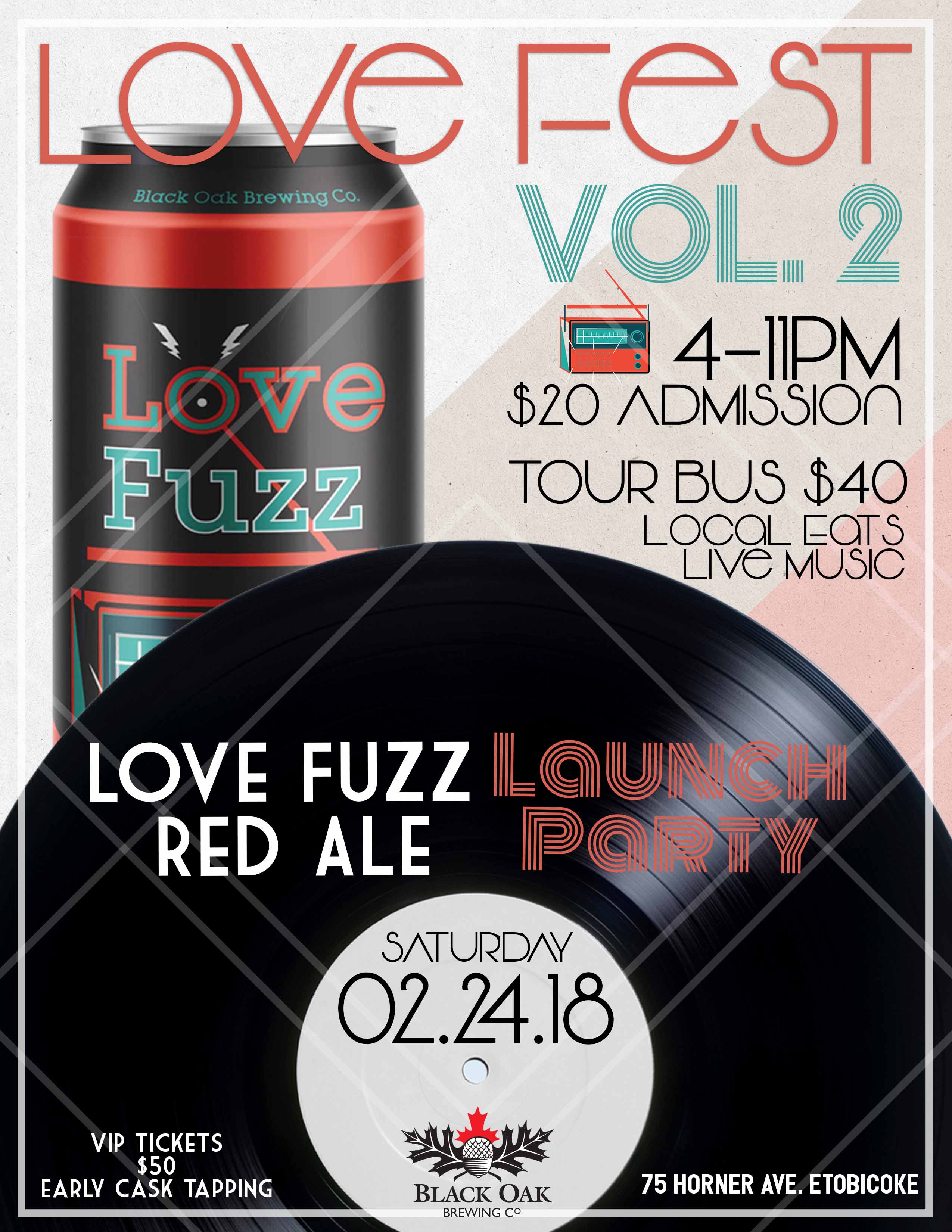 Join us Saturday Feb. 24th for Love Fest Vol. 2
at Black Oak Brewery!
We're celebrating the re-release of our seasonal Red Pale Ale, Love Fuzz, which will be debuting in LCBO's across Ontario by the end of February 2018.
This Canadian Brewing Awards gold medal winner is triple-hopped using Legacy, Simcoe and Galaxy hops to create very subtle blueberry, citrus and pine notes that complement its natural malty caramel flavours.
This brew was inspired by the love of craft brewing and great music, so we're very excited to have 3 local bands celebrating with us on the 24th.
We'll also have some delicious catering available throughout the night and, as always, some fantastic brews on tap and available in the beer fridge.
Tickets for the event are $20 each, and include one beer token.
Doors open at 4pm
VIP early access tickets are also available!
VIP tickets will get you in for 3pm for an exclusive cask tapping. 3 drink tickets included, as well as a Black Oak grab bag on your way home! VIP tickets are available for $50 ONLINE ONLY
Coming from out of town? Can't find a DD?
We've got you covered!
We'll have a Tour Bus running through Waterloo, Guelph area, and Toronto throughout the evening for $40 a ticket. Tour bus tickets include event entry as well as one beer token.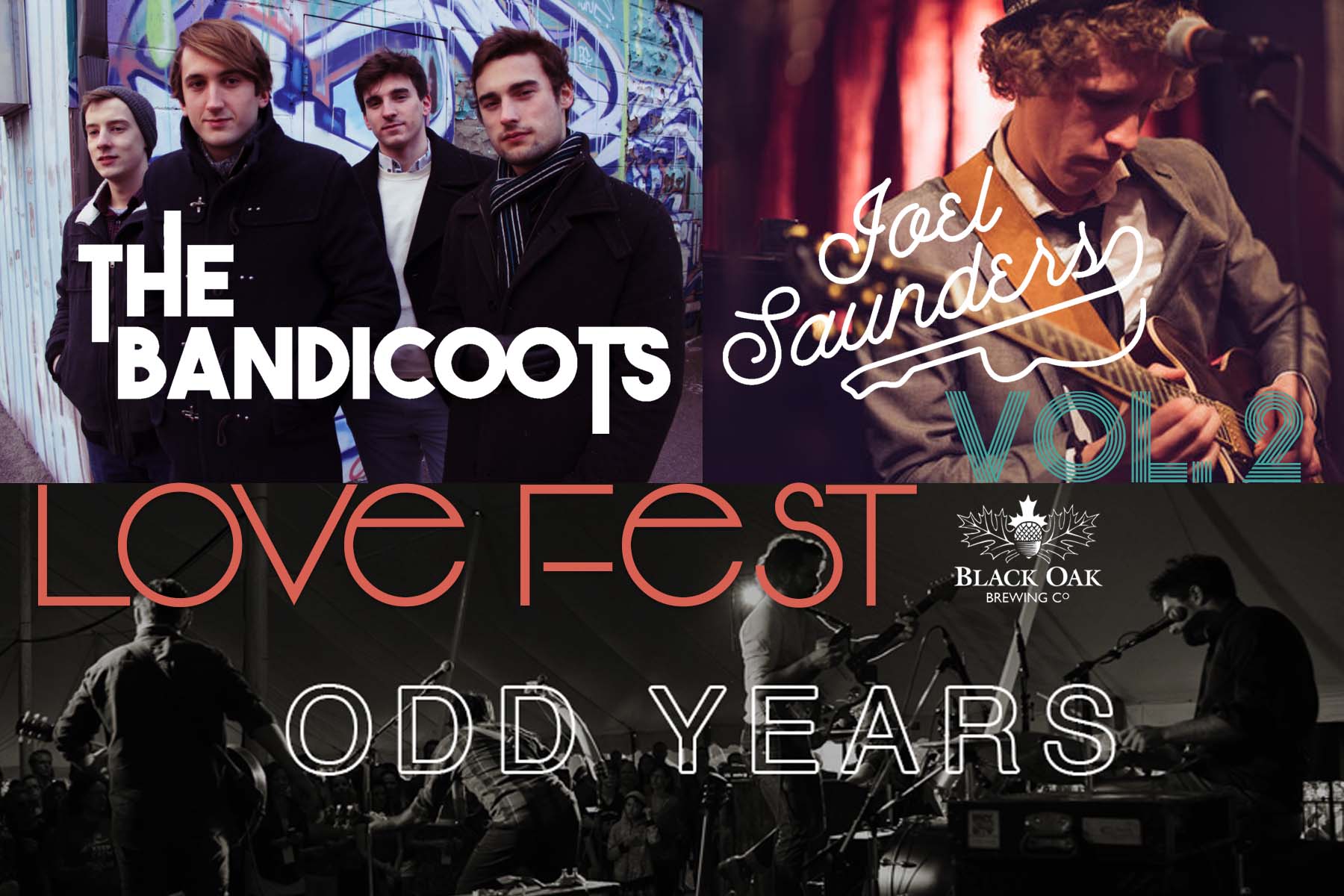 Live Music:

Joel Saunders
7:00 - 8:00pm
Bridging jazz standards and modern pop classics along with a vast spread of eclectic original tunes, finger style specialist Joel Saunders has entertained audiences in venues and at special events across Ontario both as a solo act as well as with various accompanying musicians.
Born and raised in Uxbridge Ontario, playing guitar since the age of 5 and having studied jazz guitar at University of Guelph for four years, Joel (who now resides in Toronto) knows his way around a number of instruments but spends most of his time between the guitar and the ukulele as a music teacher by day and performing artist by night.
Joining Joel in a project they call "Stay Gold" is vocalist Thomas Sharpe. The two have been playing together for 9 years ranging over musical styles from all genres before more recently adding Bryden Chernoff on cajon to round out the rhythm section and can now regularly be found performing in and around the GTA
The Bandicoots
8:15-9:15
Formed in 2014 by Nicolai Kozel (Guitar), Andrew Parkinson (Drums and Vocals), Lorant Polya (Bass) and Justin Ross (Guitar and Vocals) the Bandicoots garnished a bit of a following in their hometown playing a ton of live shows and self-releasing two EP's over the next two years 'This Is Why We Can't Have Nice Things' 2015 & 'Quarters at the Penny-Arcade' 2016.
Suddenly the band found themselves playing to sold out crowds as songs 'Overnight Innovator' and 'Could You Get Me To Tomorrow?'- (the singles from their sophomore release) --climbed CBC's Radio 3 Top 30 charts. The former making their year end list, and the latter raking in just shy of 250k plays on Spotify since it's release.
Touring cities throughout Ontario and Quebec in 2017 the Bandicoots got set to release their third EP in as many years entitled "Zolly"; releasing in the early summer and featuring the hit single "Rocky Horror". Like the others, this EP has been receiving raving good reviews, but with even more punch than the last two rounds and as 2018 rolls over the band doesn't show any signs of easing up on performing, bringing their lively stage show a venue near you real soon!!

Odd Years
9:30 - 11pm
Friends and bandmates since they were kids, the members of Guelph's Odd Years have an obvious chemistry and an instinct for swaggering, richly harmonic, power-pop ditties that ripple with feel. Their years playing together has allowed them to hone their sound into something like their classic rock heroes: music that is classic yet inventive, familiar yet strange, accessible yet challenging. Their unique brand of hook-filled indie rock is bursting with pulsing melodies, cascading synths, and driving rhythms.

Comprised of members from Cuff The Duke, Minotaurs, and Lowlands, Odd Years have had the pleasure of supporting acts over the years such as Cuff, Hilotrons, Wax Atlantic, Del Bel and Said The Whale to name a few and they continue to be perennial faves performing at Elora's Riverfest Festival, Guelph's Hillside Festival, and The River & Sky Festivals around River Valley.
Their first record "Drawing Lines" debuted at #2 on CBC Radio 3's top 30, while their latest record "Slow Clap" (released mid 2017) has received similar accolades including ranking in the top 40 on CBC's top 103 of 2017 with the records' single release "Troubador".
Opening for Elliott Brood throughout much of the end of 2017, the band continues their ongoing national tour as 2018 steams forward. Keep an eye out for them in your town!
https://oddyears.bandcamp.com/
________________________________
TOUR BUS SCHEDULES:
2:30pm arrival – 2:45pm Departure
176 Woolwich Street, Guelph
3:15pm – 3:30pm Departure
2050 Appleby Line, Burlington
Arrival Black Oak – 5:30pm
972 Danforth Ave, Toronto
6:00pm – 6:15pm Departure
67 Front Street East, Toronto
6:30pm – 6:45:pm Departure
Arrival Black Oak – 7:15pm
972 Danforth Ave, Toronto
67 Front Street East, Toronto
2050 Appleby Line, Burlington
176 Woolwich Street, Guelph