Event Information
Location
University Heights Mall
3980 Shelbourne Street
Victoria, BC V8N 6J1
Canada
Roses are red, violets are blue, if you come to Love Hurts, we promise to scare you! (and laughing) A twisted take on the day of love.
About this event
As the University Heights shopping Center is moving forward with its re-development this summer 2022.....
MONSTERS HAUNTED HOUSE is back for our final event "LOVE HURTS" at The University Frights Theatre . LOVE HURTS, is open for 4 days only! Your favorite haunted house has had a Valentines make-over, ... with a sinister, jilted lover's twist!
Forget the boring dates of Valentine's past and come experience something exhilarating this year!
Also while you are here get your photo taken in our haunted Valentines photo-ops. Watch out, creatures may be lurking around the corners!
LOVE HURTS Valentine Haunt may include horrifying scenes and may not be appropriate for all ages. LOVE HURTS Valentine Haunt is not recommended for children under the age of 12. There are no refunds or exchanges allowed for this event.
*** READ BEFORE PURCHASING TICKETS ***
*** AS PER PROVINCIAL HEALTH GUIDELINES, PROOF OF VACCINATION IS REQUIRED FOR ENTRY. IF UNABLE TO PROVIDE PROOF OF VACCINATION, YOU WILL BE DENIED ENTRY AND NO REFUND GIVEN.
*** THIS EVENT WILL HAVE A LIMITED NUMBER OF TICKETS SOLD AND BE AVAILABLE FOR SELECT TIME SLOTS PER NIGHT. PLEASE ENSURE TO ARRIVE DURING YOUR TICKETED TIME SLOT.
*** WHILE INSIDE THE EVENT, ALL PATRONS MUST WEAR MASK / FACE COVERING AS PER THE CURRENT BC HEALTH REGULATIONS.
*** DUE TO LIMITED NUMBER OF TICKETS SOLD AND TIMED TICKETING, THERE ARE NO REFUNDS PERIOD. THE ONLY EXCEPTION IS IF THE EVENT IS UNABLE TO OPEN FOR THE NIGHT YOU HAVE PURCHASED, OTHERWISE, GIVE YOUR TICKETS TO FRIENDS OR SELL THEM ONLINE. IF YOU ARE UNABLE TO ATTEND, WORK CALLED YOU IN, AREN'T VACCINATED, DOG ATE YOUR HOMEWORK, CHANGED YOUR MIND,..ETC...., ETC....ETC!! ..... STILL NO REFUND.
TO MAKE IT CLEAR - THERE ARE NO REFUNDS FOR THIS EVENT!
***Rules While Inside the Attractions
• No smoking, vaping, eating or drinking.
• No running, pushing or shoving.
• No touching of props or performers.
You will not be admitted if you appear intoxicated or under the influence of drugs.
If you violate any of these rules you may be asked to leave the event without a refund.
Disclaimer and Assumption of Risk
LOVE HURTS haunted attraction is an intense theatrical experience. You will experience loud noises, bright lights, dark spaces, strobe lights and fog machines as well as scenes of horror.
You should not enter if you are pregnant, have problems with claustrophobia, have heart, back or neck conditions, are prone to seizures, have respiratory problems or any other physical or mental limitation that will impair your ability to experience this event.
Visitors to LOVE HURTS haunted attraction understand that there is an inherent risk in entering the haunted attraction. In consideration and acceptance of admission to LOVE HURTS haunted attraction visitors agree to release the operator, its parent company, affiliates, officers, directors, employees and land owner from any liability for harm, injury, death or expense that may arise directly or indirectly from visiting LOVE HURTS haunted attraction.
ENTER AT YOUR OWN RISK
BY VISITING LOVE HURTS HAUNTED ATTRACTION, YOU VOLUNTARILY ASSUME ALL RISKS RELATED TO EXPOSURE TO COVID-19
An inherent risk of exposure to COVID-19 exists in any public place where people are present. COVID-19 is an extremely contagious disease that can lead to severe illness and death. According to the CDC, senior citizens and guests with underlying medical conditions are especially vulnerable. If you are exhibiting any COVID-19-related symptoms, you should come to the event.
By purchasing one or more tickets Online through this Web site, you are automatically agreeing to be unconditionally bound by these Terms & Conditions:
You agree to comply with all attraction rules, heed all signs and warnings, and follow all instructions.
*** MOST OF ALL - HAVE FUN ! ! ! ***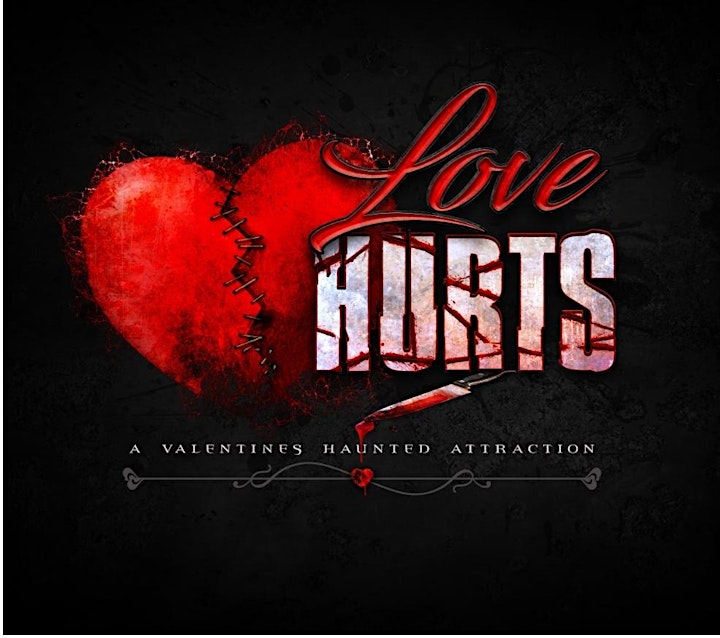 Location
University Heights Mall
3980 Shelbourne Street
Victoria, BC V8N 6J1
Canada
Refund policy