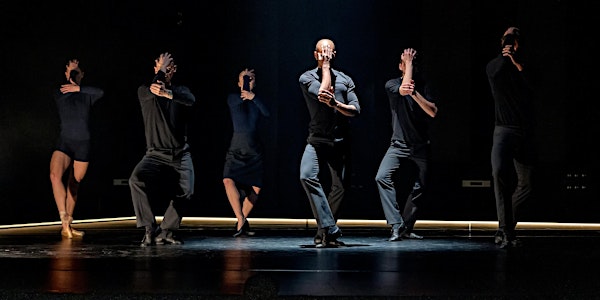 Love Me Tender by Cas Public at Dënäkär Zho - KIAC Ballroom
Contemporary dance performance choreographed by Hélène Blackburn in collaboration with Cai Glover and produced by Cas Public (Montreal)
When and where
Location
Klondike Institute of Art & Culture (KIAC) 902 Second Avenue Dawson City, Y0B1G0 Canada
Refund Policy
Contact the organizer to request a refund.
Eventbrite's fee is nonrefundable.
About this event
Early show! 7:00 Start time. There is no bar or concessions. Feel free to bring waterbottles. Arrive in time to be seated shortly before 7:00.
This show is all ages and suitable for all audiences.
---
"Lumière, éclairage, ombres, reflets, couleurs tous ces objets de la recherche ne sont pas tout à fait des êtres réels : ils n'ont comme les fantômes d'existence que visuelle." -Maurice Merleau-Ponty
---
Tempting fate, Hélène Blackburn rises to the challenge of her first in situ work featuring several different versions: outdoors or indoors, by day or by night. With an urban set, clever low-tech lighting, and contagious energy, Love Me Tender has panache ! Produced with minimal resources, this hymn to resilience echoes with lost innocence and the feel of a bygone era.
Lively and precise, the masterful choreography flows with duets and solos that develop into trios, quartets, and ensemble work. The dancers morph into spectators, lighting engineers, and participants. Playing with expectations and genres, this impromptu adventure uses shadows, reflections, and lights to express a relationship with others and with space, evoking a sensation of rediscovered happiness through harmony and community. With music by Martin Tétreault and Dear Criminals and samples of songs by old-school crooners, this performance is a refreshing breath of freedom that captures the spirit of our time.
---
CRÉDITS
Artistic direction and choreography : Hélène Blackburn

Choreography : Hélène Blackburn in collaboration with Cai Glover
Assistant to the Choreographer : Cai Glover
Lighting Design : Étienne Fournier
Music : Martin Tétreault, Dear Criminals and Alexandre Désilets
Costume Designer : Michael Slack

Technical Direction & Sound : Emmanuel Landry
Photography : Claudia Chan Tak, Vanessa Fortin and David Wong
---
For all audiences
Duration : To be confirmed
6 performers
Year of creation : 2020
---
ADDITIONAL CREDITS
Love Me Tender is a creation of Cas Public. It has benefited of creative residencies : Agora de la danse (Montreal, Canada), Maison de la culture du Plateau Mont-Royal (Montreal, Canada) Maison de la culture Montréal-Nord (Montreal, Canada) et Maison de la culture Notre-Dame-de-Grâce (Montreal, Canada).
---
ABOUT CAS PUBLIC
Founded in 1989 by choreographer Hélène Blackburn, Cas Public favours a research process in choreographic creation founded on the renewal of contemporary approaches to dance. In 2001, the company successfully carved out a niche in the young audience market with the goal of introduction the public to contemporary dance and contributing to its development. Cas Public thus defines itself as a contemporary dance company dedicated to producing works for general audiences. Recognized for its high-energy, high-performance dance, Cas Public has staked its reputation on the exceptional quality of its works coupled with its presence on national and international stages.
---
Co-presented by the Yukon Arts Centre
---
Funding from the Government of Canada, Canada Council for the Arts, and Yukon Government. Sponsored by the Northwestel Hanging Sky Tour and Yukon Brewing