Multiple Dates
Love without pain Meditation Series & Day Retreat
Description
Love Without Pain
with visiting teacher Gen Kelsang Zopa of Bodhichitta Kadampa Buddhist Centre in Victoria, BC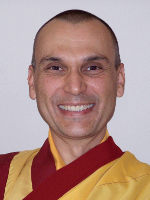 3-PART MEDITATION COURSE
Saturdays June 30, July 7 & 14 10am-12pm
$25 for all 3, or $10 drop in | FREE for Members
By distinguishing between love and attachment, we can establish the foundation for lasting, harmonious relationships. During this three-part course, we will be guided on how to improve our experience of
pure love and solve many of our daily problems.
DAY RETREAT
Saturday July 21, 9:30am-3:30pm
$25 l FREE for Members
Love is different from attachment. Unlike attachment, love doesn't expect anything in return. When we act out of attachment our actions are ego-centric and self-serving. The object of our focus is me, my suffering, my problem, my happiness. In this retreat we will meditate on how to distinguish love from attachment.