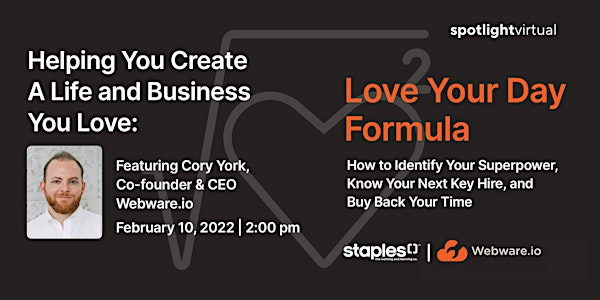 Love Your Day Formula
Helping You Create A Life and Business You Love: How to Identify Your Superpower, Know Your Next Key Hire, and Buy Back Time
By Staples Spotlight Virtual Events
When and where
Date and time
Thu, Feb 10, 2022 11:00 AM - 12:00 PM PST
About this event
Join Webware CEO Cory York, in this Virtual Spotlight where he is going to help you create a life and a business YOU LOVE.
IN JUST 30 MINUTES CORY WILL TEACH YOU how to sequence your time to align with your superpower so that you love what you do again.
This process is going to help you identify your superpower and teach you how to utilize your superpower effectively, and how to align your team's superpowers so they are PERFORMING LIKE YOU HAVE NEVER SEEN BEFORE. It is going to be awesome, exciting, and a GAME CHANGER. You don't want to miss it!
Tools and tactics for YOU and your TEAM.
Identify tasks as tactical or strategic.
Decide on actions for each task: delegate, automate or eliminate.
In this session, you will learn:
How to implement an easy-to-use framework that helps you and your team pinpoint where your strengths lie and utilize what you love to do to increase performance.
How to easily identify the next key hire, that will unlock your biggest challenge, to help your company move to the next level.
How to determine your next key projects that will help you and your team earn back valuable time.
Webware.io Digital Marketing Done For You. The platform that gives your business a web presence you're proud of, without the headache you're used to.
Session Replay will be emailed to all attendees that register for event!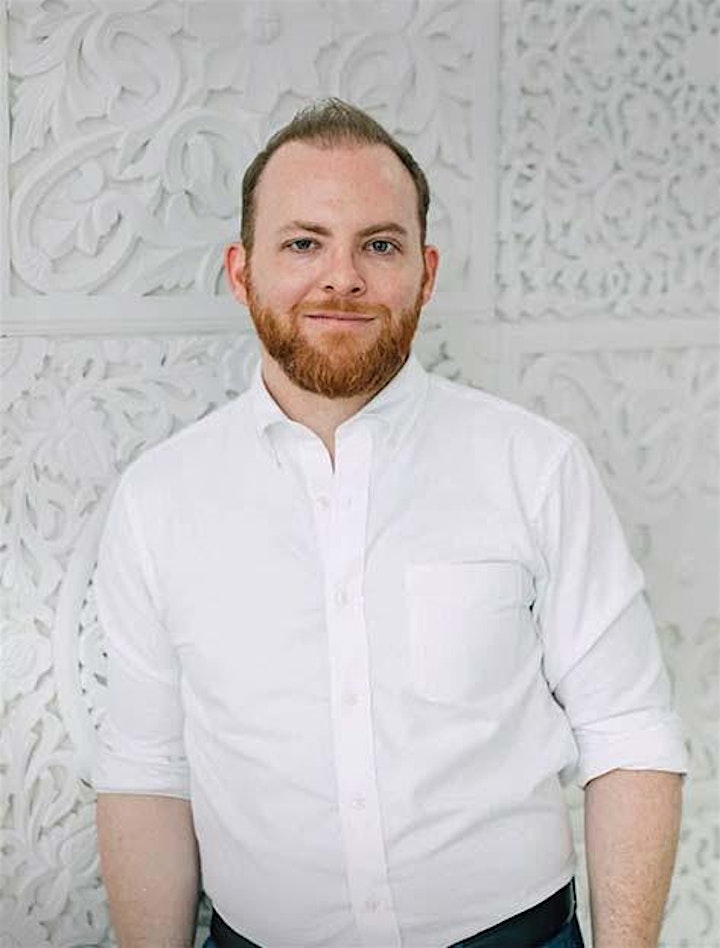 About Cory,
Cory is the Co-founder and CEO @ webware.io 8 figure SaaS B2B SMB Website and Marketing Platform. His mission is to help 1 billion small business owners find success online. Currently crushing his mission through Webware.io, a digital marketing platform, that gives thousands of busy business owners an easy way to utilize the internet to help grow new customers, increase referrals and win back their time, all without becoming a tech expert or a marketing guru so that they can focus on what they do best.
Website: https://www.webware.io/
Instagram: https://www.instagram.com/webware.io/
Facebook: https://www.facebook.com/webwaredotio
LinkedIn: https://www.linkedin.com/in/coryyork/
About the organizer
Spotlight is both a physical and a virtual destination, bringing together a community of like-minded people to learn, work, and grow. An unparalleled, motivational event space, it provides a robust calendar of thought-provoking guest speakers, inspiring seminars, and educational workshops to help move you closer to achieving your personal goals.
Come share your experience with others. Together, we inspire each other through building a sense of community while moving ourselves closer to realizing our goals and ambitions.
Join the Spotlight Conversation 
https://www.facebook.com/groups/thespotlightconversation/
The purpose of the group is to keep the conversation going, providing access to Spotlight experts, event content, and a discussion forum. 
About Staples Canada
Staples Canada/Bureau en Gros was founded in 1991 and operates over 300 locations across all Canadian provinces. A constant source for small business and educational needs, Staples Canada has transformed into the Working and Learning company. Staples Canada is committed to being a dynamic, inspiring partner for all its customers, always adapting to ensure they have the resources and experience to help them work, learn, and grow. The two staples in the company's logo reflect the collaboration between Staples Canada customers and the 10,000 associates at the 300+ locations across Canada. Visit staples.ca for more information, or get social with @StaplesCanada on Facebook, Twitter, and Instagram.