Join us on May 13th and 21st to learn more about supporting friends and family who live with a mental illness.
About this event
It can be extremely difficult watching someone you know struggle and suffer from mental illness. As we know, providing comfort and support to loved ones is crucial but we may find ourselves struggling to find the best way to give them the comfort they need. This could be because we don't know much about their mental illness, we don't know the right thing to say or because we are struggling ourselves.
Mental health affects every aspect of one's life like one's relationship with others and your relationship with yourself. For that reason, it is important that we take a moment to reach out and find information and resources that will allow us to take better care of ourselves and those around us. Becoming informed allows us to recognize unhealthy behaviours and habits in ourselves and our loved ones, and come to a place of understanding in order to promote mindfulness and wellness in ourselves and those around us.
If you found yourself agreeing with or relating to any of these concerns, perhaps you'd be interested in joining our "Loving Someone with Mental Illness" event taking place on May 13th & 21st from 6-7:30 PM. Sign up to receive the zoom information!
The first session on May 13th will be designed to give you a greater understanding of your loved one's experiences and struggles, as well as some tips on how to empathetically comfort and respond to them.
The second session on May 21st will be designed for you! We will teach you how to implement boundaries and take care of yourself while still supporting your loved one with a mental illness.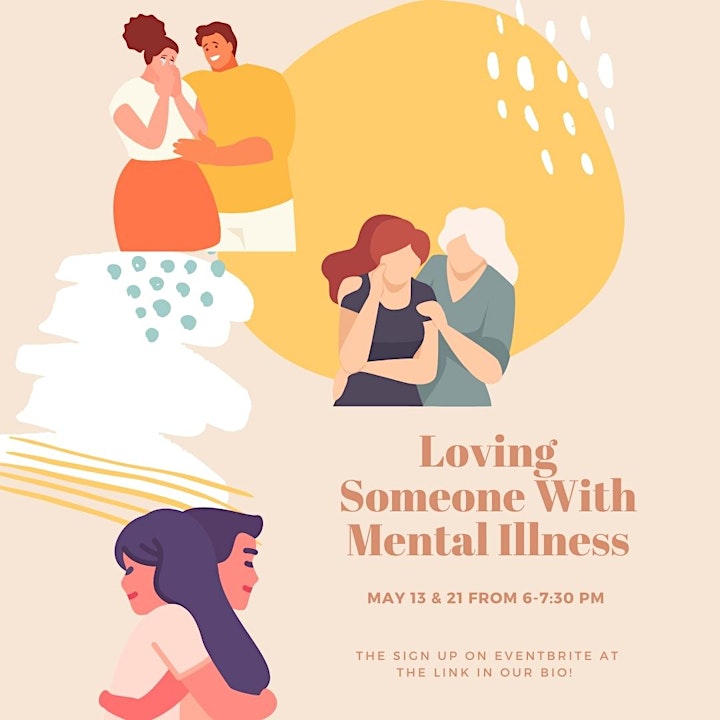 Organizer of Loving Someone with Mental Illness