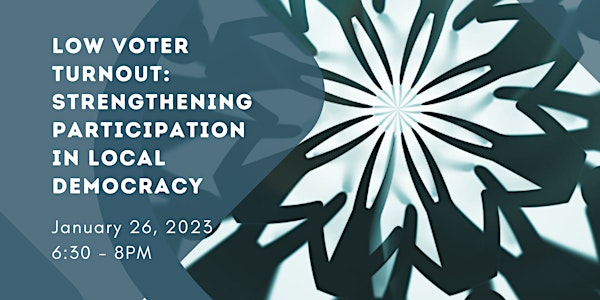 Low Voter Turnout: Strengthening Participation In Local Democracy
Join in virtual conversations exploring low voter turnout in Waterloo Region and ways to strengthen democratic participation locally.
About this event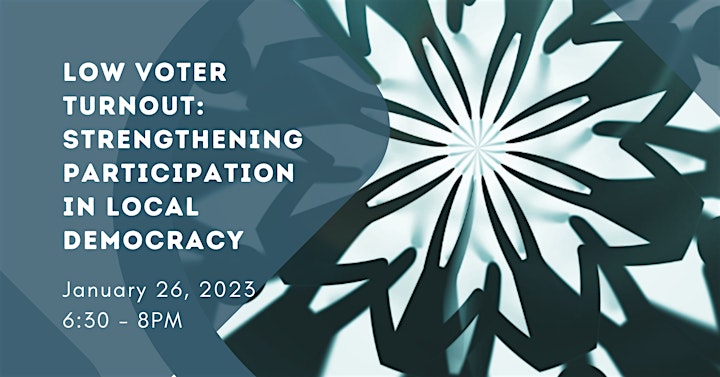 Hear guest speakers and join community conversation with host Regional Councillor Rob Deutschmann in this first segment of his Virtual Community Townhall Series.
This series opener, held virtually January 26th, 2023, from 6:30 to 8 PM, will discuss low voter turnout in the recent municipal elections and explore ways to strengthen democratic participation in Waterloo Region.
This event will be recorded and footage will be available for later viewing online on our YouTube channel
Don't forget to visit our Facebook page follow us on Twitter
You can also sign up for email updates HERE to stay up to date on all townhall segments in this series.
More About This Events Guest Speakers:
Melissa Bowman
Melissa Bowman is a community advocate interested in city-building, local politics, and social justice. She writes a weekly blog, Citified, that explores many of those issues. In 2018, she ran for local council in Kitchener. Melissa is also co-founder of Waterloo Region Yes In My Backyard, a grassroots group that urges the cities of Waterloo Region to allow for more housing, especially affordable housing.
In addition to the above, you can find Melissa on Mastodon, Instagram, and Twitter.
Jörg Broschek
Sam Nabi
Sam Nabi (he/him) is a co-owner of Full Circle Foods and member of Hold The Line Waterloo Region an organization that educates people about preserving our countryside while encouraging growth in livable downtown neighbourhoods. Hold The Line has organized festivals bringing together musicians, cyclists, foodies, and environmentalists on local farms. Sam also championed the pedestrianization of Gaukel Street in downtown Kitchener, by bringing together artists, businesses, and neighbours to advocate to city council. You can find Sam on Twitter (for now), Mastodon, or at your local DIY music show.
Andrea Perrella
Andrea Perrella is an Associate Professor of Political Science at Wilfred Laurier University in Waterloo. He researches public opinion, political participation, and the media. His research has been published in a variety of scientific journals and edited volumes, including the Canadian Journal of Political Science, Canadian Public Policy, International Journal of Press/Politics, Journal of Urban Affairs, among others. He also regularly serves as a source for media interviews on topics that pertain to elections and contemporary political issues.
Matt Rodrigues
Matt Rodrigues ran as a Kitchener Candidate for Regional Council in the 2022 municipal election. His platform focused on building a community that left no one behind, as a forward-thinking, responsive, and connected Region. He is an urban planner by trade and served as the former Chair of Kitchener's Active Transportation & Trails Advisory Committee. As a renter who does not own a car and relies on public transit and cycling, Matt understands how we can and need to improve these services across Kitchener, and continues to advocate in those spaces.
The 2022 municipal election had significant issues on the ballot and many open seats. Despite this and with voter turnout at a low of 20% in Kitchener, Matt is no stranger to low voter participation and its impact on the candidates running for office.