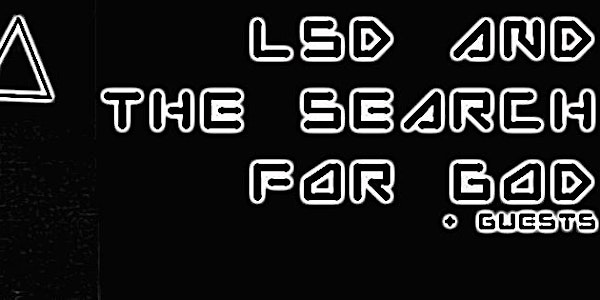 LSD AND THE SEARCH FOR GOD with SCARS AND SCARVES and SOFT ALARM
By the fifty fifty arts collective
Date and time
Sun, May 29, 2016 8:00 PM - Mon, May 30, 2016 12:00 AM PDT
Location
Copper Owl 1900 Douglas Street Victoria, BC V8T 4K8 Canada
Refund Policy
Contact the organizer to request a refund.
Description
The fifty fifty arts collective, the Copper Owl and Two Headed Dog Booking 两个头的狗售票店 proudly present LSD AND THE SEARCH FOR GOD

- file under psych/shoegaze
- fans of Brian Jonestown, Spacemen 3, My Bloody Valentine take note!

LSD AND THE SEARCH FOR GOD
https://lsdandthesearchforgod.bandcamp.com/releases
https://www.facebook.com/lsdandthesearchforgod/
LSD and the Search for God hit the Northern California coast in 2005––seemingly from another place and time––dosing audiences with hypnotic performances built upon swirling guitar sounds, otherworldly drones, fuzzed-out pop melodies, and dreamy vocal harmonies. As reviews of their first shows drew comparisons to My Bloody Valentine, Slowdive, Yo La Tengo, Spacemen 3, and Sonic Youth, the band quickly developed a must-see reputation within San Francisco's underground psychedelic music community.

After only a handful of shows, Kurt Heasley asked the band to play with Lilys in San Francisco in spring of 2006. Shortly after, they were invited on two separate West Coast tours: first with Spectrum (Sonic Boom of Spaceman 3), then with Creation Records' The Telescopes (on their first-ever tour to the U.S.).

In 2007, LSD signed with indie label Mind Expansion and their self-titled debut EP sold out from the record label and its distributors before the official release date. The EP was subsequently picked up and reissued on vinyl (Deep Space Recordings, 2008). Around this time, LSD was featured on three additional compilations: Mind Expansion Vol. 1, M.E. Vol. 2, and Australian nugazer compilation Take Me on the Wildest Spree (Rubber Records/EMI, 2008).

The momentum that was generated—from their live shows and stellar reviews of the sold-out EP—paved the way for years of more West Coast gigs, three U.S. tours, a Canadian tour, and festival invites—including a 2013 appearance at The Black Angels' annual Austin Psych Fest.

In addition to shows with Lilys, Spectrum, and The Telescopes, LSD and the Search for God have shared bills with A Place to Bury Strangers, Dead Meadow, The Warlocks, Medicine, Dead Skeletons, Martin Rev (Suicide), Mark Gardener (Ride), and DJs Anton Newcombe (Brian Jonestown Massacre), Brad Laner (Medicine), Nick Jago (Black Rebel Motorcycle Club), and Colm O'Coissoig (My Bloody Valentine).

A new EP, Heaven Is a Place, is scheduled for vinyl and digital release in autumn 2015 (Deep Space Recordings).

--Mind Expansion, 2015

with

SCARS AND SCARVES
- local shoegaze psych
https://www.facebook.com/scarsandscarves/?fref=ts
http://scarsandscarves.bandcamp.com/

and
SOFT ALARM
- psych/pop members of Grimwood
https://softalarm.bandcamp.com/

tickets advance $10 +s/c or $15 at the door.
About the organizer
the fifty fifty arts collective, located in unceded and occupied Lekwungen Territories (Victoria, BC), is a not for profit, volunteer-run, multi-disciplinary programming space that supports both emerging and established artists. We are committed to the underground, the underdog, the experimental and the emergent; to curatorial proposals, workshops and skill-sharing; and to group exhibitions, collaborations and artist talks. We seek to make our exhibition space viable to artists outside of Vancouver Island and the Lower Mainland, in order to exhibit work from across Canada and share it with our communities, thereby deepening both our critical and inspirational engagement with the arts. The collective programs bi-annually and supports an accessible application process, please see our submission FAQ sheet and guidelines to learn what we are looking for in a proposal package. We are always looking for dedicated volunteers. If you or someone you know might be interested in helping us be open longer please don't hesitate to contact us.