EXCLUSIVE ARIZONA SCREENING of LUMPIA WITH A VENGEANCE! October 22nd at 6:00pm Harkins Theater at Tempe Marketplace 16
About this event
LARAS Media International, Asian International Film Festival Arizona (AIFFA) & On Point with Jovie Calma
Proudly Present the
EXCLUSIVE ARIZONA SCREENING of LUMPIA WITH A VENGEANCE !
October 22nd at 6:00pm
Harkins Theater at Tempe Marketplace 16
2000 E Rio Salado Pkwy #1160, Tempe, AZ 85281
Q&A to follow with director Patricio Ginelsa
Every ticketholder will receive a free digital copy of LUMPIA WITH A VENGEANCE: PRELUDE #1 comic book
For more information, pls call Charmel at 480 471 5436 or 480 398 0185.
The long-awaited action-comedy features former UFC fighter Mark Muñoz, April Absynth, Katrina Dimaranan, Darion Basco, and Danny Trejo (Machete, From Dusk Til Dawn). Debuting at the 40th Hawai'i International Film Festival last November, LUMPIA WITH A VENGEANCE sold out its virtual and in person screenings, winning the Audience Award for Best Narrative Feature. This year, the film followed up with sold out screenings at CAAMFEST 2021 in San Francisco, Asian American International Film Festival in New York, and Los Angeles Asian Pacific Film Festival. A reboot of the 2003 Filipino American cult-favorite LUMPIA, the film also reunites some of the original cast, including Edward Baon and Francis Custodio.
This event is a fundraiser for the 2022 Philippine Medical and Humanitarian Mission of the Federation of Philippine American Chambers of Commerce and the Phoenix Barangay Lions Club
Supported by the National Federation of Filipino American Associations (NaFFAA Arizona & Nevada Chapters) and the Filipino American Business Chamber of Commerce of Arizona (FABCCA East Valley)
In cooperation with Manila Sunrise Sari-Sari Store, MegaWorld International, Casino Arizona & Talking Stick Resort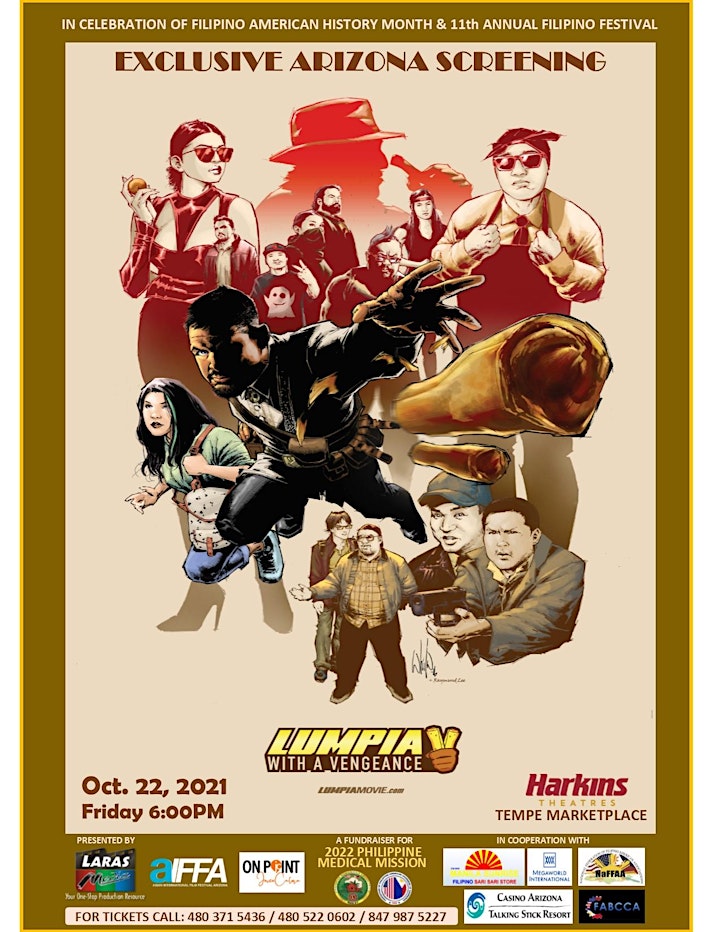 Organizer of LUMPIA WITH A VENGEANCE