Lunch and Learn with RAISE Workplace Language Training Program
Learn about our unique customer-service focused workplace language training program that improves your employees' workplace communication
About this event
"Lunch & Learn" information session.
Are you a customer-service sector employer that offers employment opportunities to newcomers? Do some of your employees have lower English language skills? Do you want to support your employees to enhance their workplace communication skills to successfully navigate their new Canadian workplace? Do you want to increase employee retention and reduce employee turnover resulting from communication breakdowns at work? If you have answered "yes" to any of the questions above, then we have a program for you.
Join us in our 45-minute "Lunch & Learn" event this week to learn about our unique Customer-service focused Workplace Language Training program and how this can benefit you:
How our program will benefits you:
Increased productivity: Employees can take up additional roles/responsibilities that require enhanced workplace language skills
Professional development/training to support employees
Increased customer satisfaction: Employees learn to use aspects of Canadian workplace culture specific communication
Higher employee retention rate due to increased employee self-confidence promoting a 'sense of security' and 'job-safety'
Active role in community development and integration of newcomers into the Canadian labour market
Program is offered free of cost, no paperwork involved.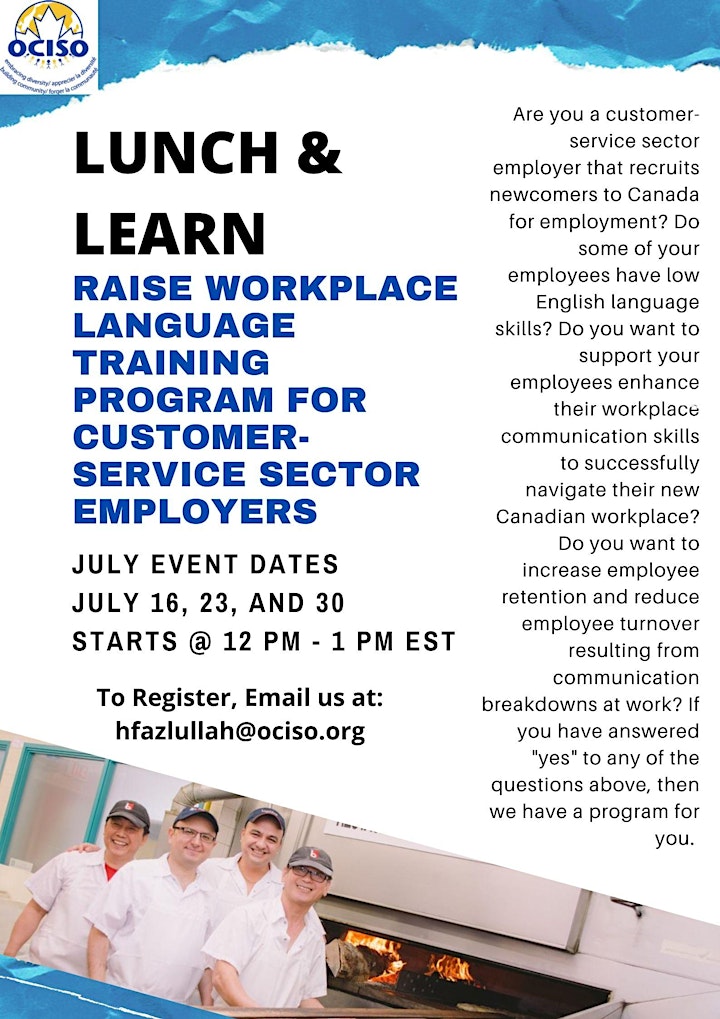 Organizer of Lunch and Learn with RAISE Workplace Language Training Program