Event Information
Refund Policy
Refunds up to 7 days before event
Eventbrite's fee is nonrefundable.
Description
Join us for an indepth look at John C. Maxwells book "The 15 Laws of Invaluable Growth" with John C. Maxwell Certified Instructor Belinda Wick-Graham. Together we will review and conduct a deep dive discussion into these laws and extract useful habit, lessons and key take aways.
4 Lunches & Book Included in $125+HST Price
12:00-1:00PM
October 23rd
November 6th & 20th
December 4th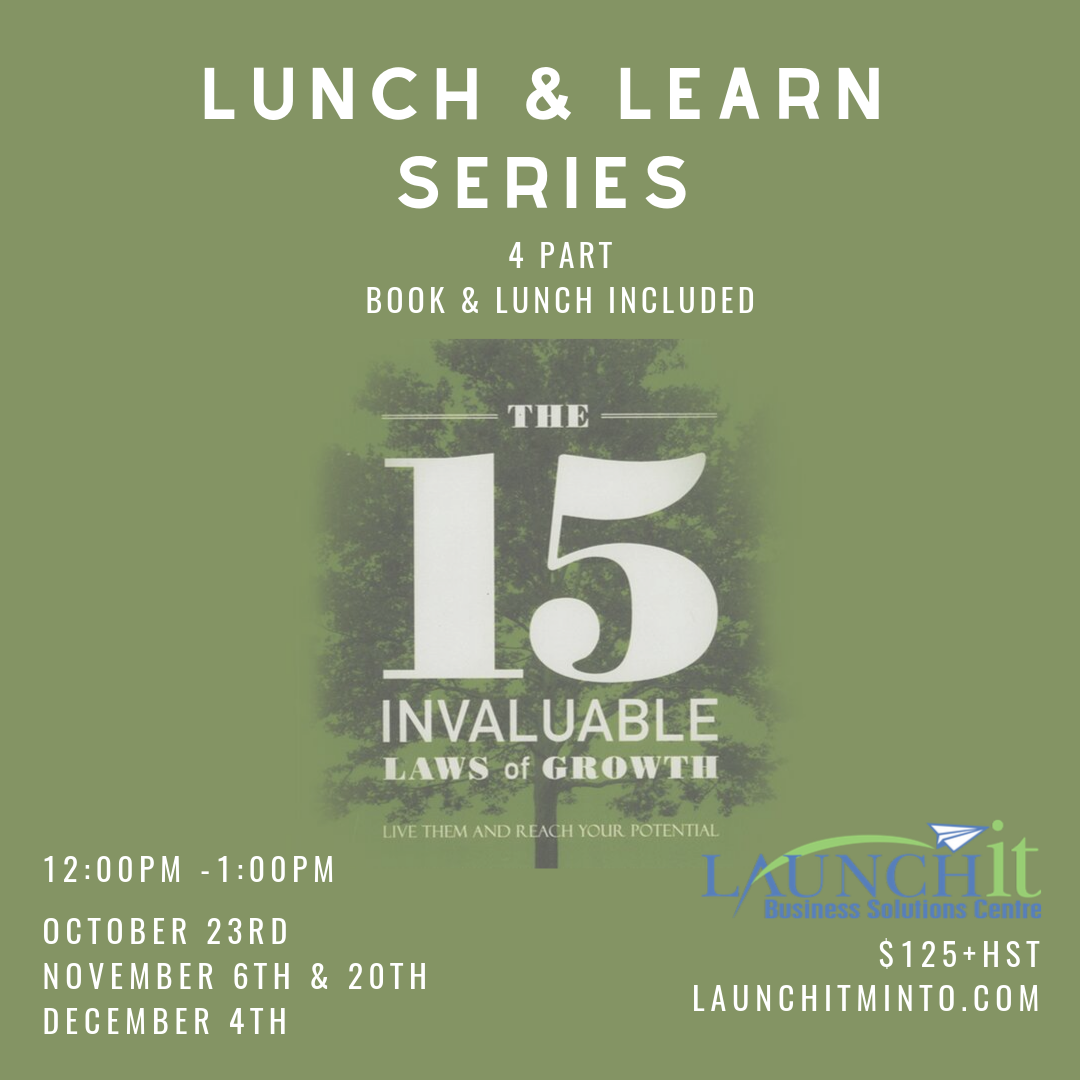 Come learn and lunch with us! Over 4 Wednesdays we'll be discussing the thought provoking lessons that can be found in John Maxwell's "The 15 Invaluable Laws of Growth" while munching down on some delicious meals!
__Are there tried and true principles that are always certain to help a person grow? John Maxwell says the answer is yes. He has been passionate about personal development for over fifty years, and for the first time, he teaches everything he has gleaned about what it takes to reach our potential. In the way that only he can communicate, John teaches . . .
The Law of the Mirror: You Must See Value in Yourself to Add Value to Yourself
The Law of Awareness: You Must Know Yourself to Grow Yourself
The Law of Modeling: It's Hard to Improve When You Have No One But Yourself to Follow
The Law of the Rubber Band: Growth Stops When You Lose the Tension Between Where You are and Where You Could Be
The Law of Contribution: Developing Yourself Enables You to Develop Others
This third book in John Maxwell's Laws series (following the 2-million seller The 21 Irrefutable Laws of Leadership and The 17 Indisputable Laws of Teamwork) will help you become a lifelong learner whose potential keeps increasing and never gets "used up." __
Date and Time
Location
Refund Policy
Refunds up to 7 days before event
Eventbrite's fee is nonrefundable.