Description
Part of our ongoing series Publishers: Behind the Scenes.
Doors/Lunch: 12:00 // Talk: 12:30 // End: 1:30
Lunch will be provided. Please DO NOT arrive early.
Started in 2011, tinyBuild is a publisher of indie video games. They are best known for the hit titles Hello Neighbor, SpeedRunners, Clustertruck, and Graveyard Keeper. Building off of the initial success of No Time To Explain, tinyBuild expanded into publishing games, starting with SpeedRunners. Hear how tinyBuild has published over 25 games on PC, Xbox, Switch, 3Ds, PS4, iOS, and Android including 15 games in 2018 alone. Plus, learn how tinyBuild has made a major splash in the world of streamers and YouTubers. "Twitch plays Punch Club" was the first of the "Twitch Plays" and tinyBuild continues to cultivate a very good relationship with streamers and YouTubers.
Note: Studios can also book a 1:1 meeting with tinyBuild. 1:1s will take place before and after the session. Please sign up here!

Places are limited so you MUST RSVP in order to attend!
---
tinyBuild is a global publisher of indie games. Known best for titles like Hello Neighbor, Speed Runners, and Graveyard Keeper, we strive to make an impact with world changing independent games.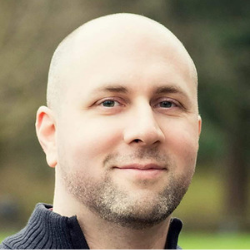 John Comes is the Chief Technology Officer at tinyBuild, an indie game publisher. Prior to that he was the Creative Director for Uber Entertainment for 9 years. He has been a key part of some well known franchises such as Command & Conquer, Battle for Middle Earth, Supreme Commander, Monday Night Combat, and Planetary Annihilation. He has also worked on iOS, Android, PC, Mac, Xbox, PS4, Switch and VR titles over his tenure in the industry. He has been deeply involved in every aspect of making games from the initial concept, prototyping, design, engineering, production, publishing, platform relations, sales, pr, and marketing.
---
This event is made possible via support from the Startup Quebec initiative of the Ministry of Economy, Science, & Innovation and the Canada Media Fund.

Organizer of Lunch & Learn - Behind The Scenes With tinyBuild
What is GamePlay Space?
GamePlay Space is a non-profit dedicated to supporting and enabling the success of video game developers by nurturing a community, sharing knowledge and creating opportunities.
Follow us @gameplayspace, join our Discord, and subscribe to our newsletter to keep up with upcoming events!
L'Espace Ludique, c'est...
...une OBNL qui soutien et à permettre le succès des développeurs de jeux vidéo en nourrissant une communauté, en partageant des connaissances et en créant des opportunités.
Suivez-nous sur Twitter, rejoignez notre serveur Discord ou abonnez-vous à notre infolettre pour recevoir toutes nos dernières informations et événements à venir!