Lunch & Learn: Climbing the Hype Ladder - A Human Approach to Forging Relat...
Description
Doors/Lunch: 12:00 // Talk: 12:30 // End: 1:30
Lunch will be provided. ***Please DO NOT arrive early.***
Climbing the Hype Ladder
A Human Approach to Forging Relationships with Influencers & Journalists
La présentation se tiendra en anglais.
In a world where hundreds of games are released across multiple platforms each day, it's getting harder for projects from smaller to mid-sized teams to stand out. And the problem is two-pronged. Game developers are forced to face both the external battle for attention in a crowded marketplace and the internal battle of choosing how to spend what little time can be spent on marketing. When your passion is making games, doing the legwork of spreading the word about your work often becomes low on your priority list. Especially when you're a team of 10, or 5 ... or 1.

This presentation will show you an empowering and results-oriented approach to getting your game noticed by influencers and journalists. Learn the ins-and-outs of building the relationships you need to stand out without feeling like your game is suffering. You'll get the inside scoop on climbing the hype ladder from a company that grew from a Meetup of 30 to a nationwide community of over 30,000.
Places are limited, please you MUST RSVP in order to attend!
---
Dan Butchko is the Founder & CEO of Playcrafting. He graduated in 2007 from NYU with a double degree in Social Work and Psychology. After spending 6 years raising money for abused kids at Help For Children, he decided to pursue his lifelong passion for games in 2014. With no formal training in marketing or sales, Dan has taken the people-first approach of his background to growing Playcrafting from a local meetup group to a successful startup and one of the largest communities of game developers and fans in the United States. Through Playcrafting, he empowers thousands of game developers each year to hone their craft, build sustainable businesses and make the connections needed to succeed. Find him on Twitter (@DanButchko) for updates, games and general hijinks.
Playcrafting takes a bottom-up and top-down approach to growing the game developer communities it serves. It offers hundreds of local classes and events annually and works with the world's leading companies - including Verizon, Bose, IBM, Facebook and more - to work directly with game developers. Playcrafting organizes the largest Global Game Jam site in the United States, the national Bit Awards ceremony and New York's first and largest game convention - Play NYC - returning this August 10th-11th for its third year.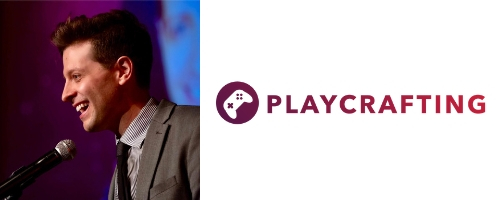 This event is made possible via support from the Startup Quebec initiative of the Ministry of Economy & Innovation and the Canada Media Fund.

Organizer of Lunch & Learn: Climbing the Hype Ladder - A Human Approach to Forging Relationships with Influencers & Journalists
What is GamePlay Space?
GamePlay Space is a non-profit dedicated to supporting and enabling the success of video game developers by nurturing a community, sharing knowledge and creating opportunities.
Follow us @gameplayspace, join our Discord, and subscribe to our newsletter to keep up with upcoming events!
L'Espace Ludique, c'est...
...une OBNL qui soutien et à permettre le succès des développeurs de jeux vidéo en nourrissant une communauté, en partageant des connaissances et en créant des opportunités.
Suivez-nous sur Twitter, rejoignez notre serveur Discord ou abonnez-vous à notre infolettre pour recevoir toutes nos dernières informations et événements à venir!