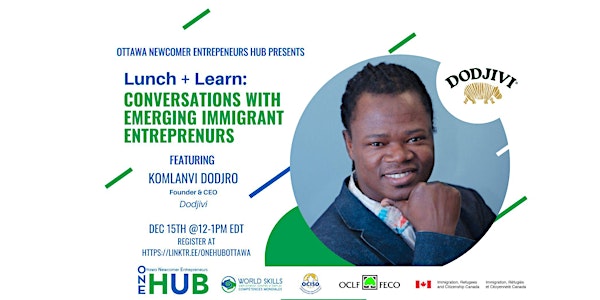 Lunch & Learn: Conversations with Emerging Immigrant Entrepreneurs
Join us in an engaging discussion with a dynamic immigrant entrepreneur!
About this event
Join our upcoming discussion with Komlanvi Dodjro, the founder and CEO of Dodjivi.
Dodjivi is an award winning Canadian health and wellness company specializing in functional, high-quality mushroom-based products.Their delicious premium healthy mushroom coffee blends are formulated to enhance your path to wellness. Packed with antioxidants and rich nutrients known to help restore your body, mind, spirit, and vitality.
Komlanvi is originally from a small village in the depth of Togo. From an early age, he got the entrepreneurial bug and knew wanted to be a part of something great. Today he is ready to start a health revolution, one mushroom at a time.
You don't want to miss out on Komlanvi's inspiring story or the valuable lessons gained through his entrepreneurial journey in Canada.
Join the conversation by bringing your questions about entrepreneurship and leveraging the opportunity to network with other attendees!
Learn more about Dodjivi at www.dodjivi.com and IG @dodjivi_