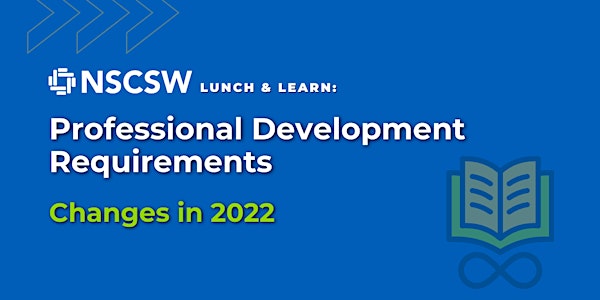 Lunch & Learn: NSCSW's Professional Development Requirements
A lunch & learn overview of the new annual professional development requirements for social workers in Nova Scotia.
About this event
Join us for an overview of the new professional development requirements that are now in effect for all social workers registered in Nova Scotia. This is an opportunity for NSCSW members to ask questions and share feedback and resources.
Eligibility
Must be a current member of the Nova Scotia College of Social Workers to attend; all active, associate, retired, and student members are welcome. There is no other prerequisite for this session.
You'll need a device that can use Zoom, and a reasonably reliable internet connection.
Category
Members of NSCSW who participate in this one hour session can include it in their annual professional development inventory as an informal learning activity.
Visit nscsw.org/pd for more information about the updated professional development requirements for Nova Scotia social workers.
Questions?
If you have questions about NSCSW's professional development program, please contact the College's Professional Practice Consultant, N Siritsky, at nsiritsky@nscsw.org.