Description
The first event in our new ongoing series Publishers: Behind the Scenes.
Doors/Lunch: 12:00 // Talk: 12:30 // End: 1:30
Lunch will be provided. Please DO NOT arrive early.
Come get a direct look into the things that make Noodlecake Studios tick as an indie game publisher. Hear first hand how they got to where they are today, what they look for in the games they work with, and the inner workings of those partnerships. Ryan will provide a candid look into what it takes to be successful, what happens when a game launch goes south, and everything in between.
Note: Studios can also book a 1:1 meeting with Noodlecake. 1:1s will take place before and after the session. Please book your session here!

Places are limited so you MUST RSVP in order to attend!
---
Noodlecake Studios is an indie game developer formed in 2011 and was built on the success of their Super Stickman Golf series. From their the company branched out helping other indies launch their games all over the world on iOS and Android. They have won numerous awards including an Apple Design Award and was named one of Canadas Top Game Developers in 2018 by Apple. Their publishing division has recently begun to branch out away from mobile into the console and desktop space while continuing to create innovative multiplayer games in house.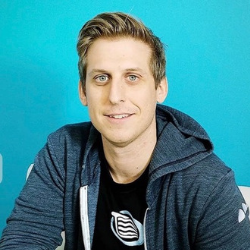 From marketing, game direction, monetization, business operations and more, Ryan Holowaty wears a lot of hats at Noodlecake. From the first party games like the award winning Super Stickman Golf series, to the numerous games Noodlecake publishes from talented indie developers all over the world, Ryan works on each and every game that Noodlecake releases. He loves working with like minded indie developers and helping make the best possible game and launch they can. He is a prime example of someone who translated his love of video games into being able to help make and release them, even if he hasn't written a line of usable code in his life.
---
This event is made possible via support from:
The Startup Quebec initiative of the Ministry of Economy, Science, & Innovation and the Canadian Media Fund.