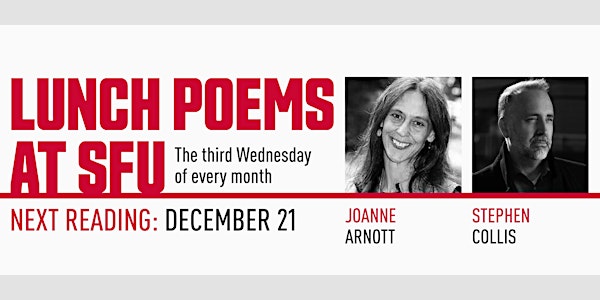 Lunch Poems presents Joanne Arnott & Stephen Collis (Online)
Lunch Poems at SFU is a unique opportunity to celebrate poetry and is held the third Wednesday of every month, from 12 p.m. to 1 p.m.
About this event
December's online Lunch Poems reading features poets Joanne Arnott & Stephen Collis.
Joanne Arnott
Joanne Arnott is a Métis/mixed-blood writer and arts activist, originally from Manitoba, now at home on the West coast. She has received the Gerald Lampert Award (LCP 1992) and the Vancouver Mayor's Art Award for Literary Arts (2017). She has published six poetry books, a collection of short non-fiction and a children's illustrated book. Recent publications include her third poetry chapbook, Pensive & beyond (Nomados Press 2019) and the co-edited volume, Honouring the Strength of Indian Women: Plays, Stories and Poetry by Vera Manuel (U of Manitoba Press 2019). Along with being a poetry mentor for the Writer's Studio at Simon Fraser University, she is a poetry editor for EVENT Magazine. Joanne has been named to the Jack and Doris Shadbolt Fellowship in the Humanities program and will be on sabbatical for 2022.
Stephen Collis
Stephen Collis is the author of a dozen books of poetry and prose, including The Commons (2008), the BC Book Prize winning On the Material (2010), Once in Blockadia (2016), and Almost Islands: Phyllis Webb and the Pursuit of the Unwritten (2018)—all published by Talonbooks. A History of the Theories of Rain (2021) was a finalist for the Governor General's Award for poetry, and in 2019, Collis was the recipient of the Writers' Trust of Canada Latner Poetry Prize. He lives near Vancouver, on unceded Coast Salish Territory, and teaches poetry and poetics at Simon Fraser University.
This event is brought to you with support from the League of Canadian Poets and the Canada Council for the Arts.