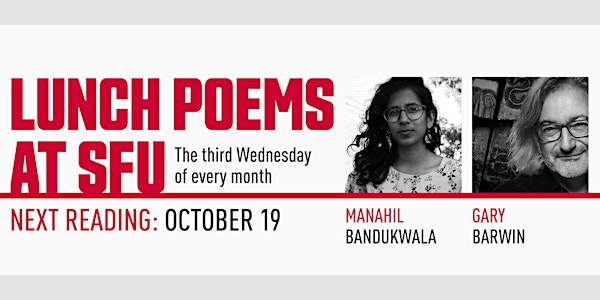 Lunch Poems presents Manahil Bandukwala and Gary Barwin (Online)
Lunch Poems at SFU is a unique opportunity to celebrate poetry and is held the third Wednesday of every month, from 12 p.m. to 1 p.m.
About this event
October's Lunch Poems reading features poets Manahil Bandukwala and Gary Barwin.
Manahil Bandukwala is a writer and visual artist originally from Pakistan and now settled in Canada. In 2021, she was shortlisted for the bpNichol Chapbook Award. She works as coordinating editor for Arc Poetry Magazine, and is a digital content editor for Canthius. She is a member of Ottawa-based collaborative writing group VII. Her project Reth aur Reghistan is a multidisciplinary exploration of folklore from Pakistan interpreted through poetry and sculpture. She holds an MA in English from the University of Waterloo. Her debut poetry collection is MONUMENT (Brick Books).
Gary Barwin is a writer, composer, multidisciplinary artist and the author of 28 books including Nothing the Same, Everything Haunted: The Ballad of Motl the Cowboy (winner of a Canadian Jewish Literary Award), The Most Charming Creatures and Portal. His national bestselling novel Yiddish for Pirates won the Leacock Medal for Humour, the Canadian Jewish Literary Award for Fiction, was a finalist for the Governor General's Award for Fiction and the Scotiabank Giller Prize, and was long listed for Canada Reads.
Barwin has been writer-in-residence at many universities, libraries and colleges, and currently mentors through the Vancouver Manuscript Intensive.
His writing has been published in hundreds of magazines and journals internationally. His writing, music, media works and visuals have been also performed, presented and broadcast internationally. He lives in Hamilton, Ontario.