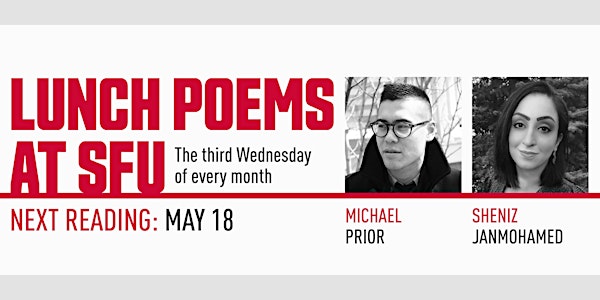 Lunch Poems presents Sheniz Janmohamed & Michael Prior (Online)
Lunch Poems at SFU is a unique opportunity to celebrate poetry and is held the third Wednesday of every month, from 12 p.m. to 1 p.m.
About this event
May's online Lunch Poems reading features poets Sheniz Janmohamed & Michael Prior.
Sheniz Janmohamed
Sheniz Janmohamed was born and raised in Toronto, with ancestral ties to Kenya, Kutch and Gujarat. She has performed her work in venues across the world, including the Jaipur Literature Festival, Alliance Française de Nairobi, Indian Summer Festival and the Aga Khan Museum. A poet and educator, she regularly visits schools and community organizations to teach, perform and inspire. Her land art has been featured across Turtle Island, including the National Arts Centre and the Art Gallery of Mississauga. Sheniz has three collections of poetry, published by Mawenzi House: Bleeding Light (2010), Firesmoke (2014) and most recently, Reminders on the Path (2021). shenizjanmohamed.com
Michael Prior
Michael Prior is a writer and teacher. He is the author of two books of poems: Burning Province (McClelland & Stewart/Penguin Random House, 2020), which won the Canada-Japan Literary Award and the BC & Yukon Book Prizes' Dorothy Livesay Poetry Prize, and Model Disciple (Véhicule Press, 2016), which was named one of the best books of the year by the CBC. Prior is the recent recipient of fellowships from the New York Public Library's Cullman Center, the Jerome Foundation and Hawthornden Literary Retreat. His poems have appeared in Poetry, The New Republic, Narrative Magazine,Kenyon Review, PN Review, The Walrus, Poetry Daily, the Academy of American Poets' Poem-A-Day series, and elsewhere. He holds graduate degrees from the University of Toronto and Cornell University.