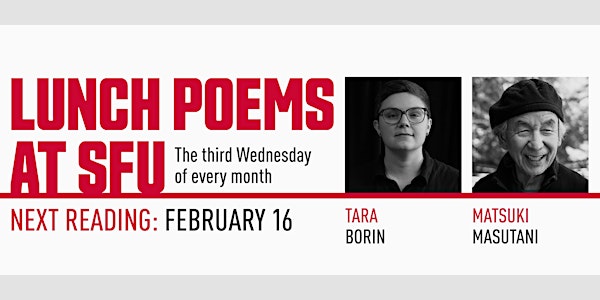 Lunch Poems presents Tara Borin & Matsuki Masutani
Lunch Poems at SFU is an opportunity to celebrate poetry held the third Wednesday of every month, from 12 p.m. to 1 p.m. Pacific Time.
About this event
February's Lunch Poems reading features poets Tara Borin and Matsuki Masutani.
Tara Borin
Tara Borin is a queer, nonbinary settler poet living and writing in the traditional territory of the Tr'ondëk Hwëch'in, Dawson City, Yukon. Their debut full-length poetry collection, The Pit, is available with Nightwood Editions. Tara's work has been anthologized in Best New Poets In Canada 2018 (Quattro Books) and in Resistance: Righteous Rage in the Age of #MeToo (University of Regina Press). Tara's poems have been published in Prism International, Prairie Fire, The LaHave Review, Red Alder Review, Canthius and more. They completed The Writer's Studio Online with Simon Fraser University in 2019.
Matsuki Masutani
Matsuki Masutani is a poet and translator living on Denman Island. He moved from Tokyo to Vancouver in 1976. He moved to Denman Island 10 years later, where he eventually began writing poems in English and Japanese. He has translated Canadian works such as Roy Kiyooka's Mothertalk, Hiromi Goto's Chorus of Mushrooms, and from Japanese into English, Kishizo Kimura's memoir, Witness to Loss, published by McGill-Queen's University Press in 2017. His poems have appeared in Geist Magazine, Capilano Review and in the anthology Love of the Salish Sea Islands.