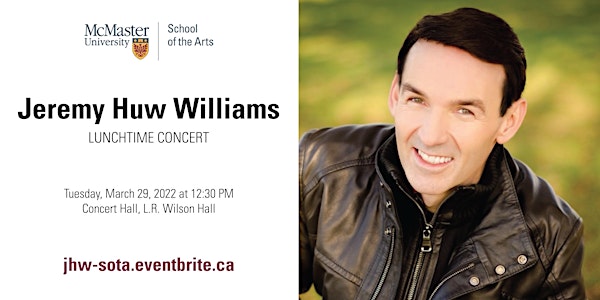 Lunchtime Concert: Jeremy Huw Williams
The School of the Arts invites you to a Lunchtime Concert performance by Visiting Artist Jeremy Huw Williams!
By McMaster University School of the Arts
Date and time
Tuesday, March 29, 2022 · 12:30 - 1:30pm EDT
Location
Concert Hall, L.R. Wilson Hall, McMaster University Main Street West Hamilton, ON L8S 4L8 Canada
About this event
Jeremy Huw Williams is a world-renowned Welsh baritone, who regularly undertakes concert tours of Europe and North America. In addition to being a first-class performing artist, he has an exceptional reputation as an educator, teaching vocal students in masterclasses, coaching choral musicians and conductors, and engaging the public in presentations and lectures. He is also a champion of female composers, regularly performing the works of Elizabeth Maconchy, Nicola LeFanu, Hilary Tann, Eleanor Alberga, Barbara Jazwinski, and Cecilia McDowall (for example, see his album, Women's Voices, https://music.apple.com/gb/album/womens-voices/1512236113).
Pianist Paula Fan has performed on five continents, recorded over 25 albums, and has broadcast for the BBC, NPR, Radio Television China, and international stations from Bosnia to Australia. One of the first recipients of the doctorate in collaborative piano from the University of Southern California, she has lectured on the subject worldwide. She was Regents Professor at the University of Arizona and has performed as principal keyboardist with the Tucson Symphony Orchestra for over 30 seasons. She has also served as visiting professor at the Eastman School of Music, and at conservatories throughout China.
In combination, Huw Williams and Fan (singer and accompanist) will benefit SOTA and the McMaster community by providing a showcase of artistic excellence and engaging with students in multiple educational ways; see below. They have a wealth of performance experience at the very highest level, which we think students within SOTA and beyond will find very stimulating and inspiring.
Important Event Information
In order to minimize uncertainty and disruption to our students, staff, faculty and university communities, Ontario's universities, including McMaster, will maintain their COVID-19 vaccination policies until at least the end of the term (April 29th).
McMaster University will maintain indoor mask requirement until at least end of term (April 29th). Masks must be worn at all times by audience members.
All audience members must abide by McMaster University's COVID-19 Health and Safety Procedures. Likewise, audience members must abide by McMaster University's Visitor Vaccination Policy. Upon arrival, audience members will be asked to show visual proof of one of the screening tools listed below. If an audience member is unable to provide proof of vaccination or if they have symptoms of COVID-19 or are otherwise unable to successfully complete the provincial government's COVID-19 self assessment, they will not be able to attend the performance.
Students, Faculty and Staff
All McMaster faculty, students and staff are required to complete daily COVID screening via MacCheck before coming to a McMaster location.
Visitors
To attend a McMaster location, all visitors must download and use the McMaster Safety App to provide proof of full COVID-19 vaccination at least one hour before their first time attending a McMaster location. For ease of entry, we suggest audience members
In addition, all individuals must not attend a McMaster location if they have symptoms of COVID-19 or are otherwise unable to successfully complete the provincial government's COVID-19 self assessment.
Ralph Vaughan Williams, Songs of Travel
Grace Williams, My Last Duchess
John Metcalf, In Time of Daffodils
William Mathias, Two Welsh folk songs