Luxurious, Self-Love Experiential Workshop in Himalayan Salt Cave
This unique, luxurious, experiential self-love, workshop is an invitation to slow down, reset & re-calibrate in the DivineWomb (Salt Cave).
About this event
In a fast paced world, where we are busy serving and supporting others in our family and career/business roles, it is easy to disconnect from ourselves, leaving us feeling drained, stuck, stressed or challenged in our mental & emotional wellbeing, relationships and life circumstances.
For those of us who are nurturers, healers, energy workers, lightworkers and practitioners, we also need sacred time to energetically reset in mind, body & spirit.
This unique, luxurious, experiential self-love, immersive workshop is an invitation to slow down into the Sacredness of your relationship with yourself, so that you may reset, (re)awaken to the wisdom within, and be divinely guided to own your Truths, and claim back your energy and power.
To just BE, peeling back any masks that we wear, fully owning who we are in this guided, exploration of Self.
To check in, explore and remember who you really are.
To (re)connect with the deeper purpose of being here.
To ignite our fire inside.
And expand our luminosity.
The goal is to be able to feel aliveness and expansiveness and feel inspired, motivated, and catalyzed to go back into your life to take on your challenges with new, creative & fresh ideas.
______
WHAT TO EXPECT:
Hi loves, here's the vibes of this sacred, intimate, self-love experience:
Imagine coming into a luxurious, sacred, quiet atmosphere….
Staying in sacred silence as much as possible, so you can stay in being in the experience FOR yourself (not need to put on any social masks here! Yay!)…
Having hot tea ready for you…
Silently coming into the beautiful sea salt cave (the Sacred Divine Womb space)…
Finding your spot that is calling you…
Staying in sacred silence…
Then I (Rosalyn), your facilitator, will begin welcoming you and deepening the energetic and emotional safety of the group for a chance to "meet" each other on this soul level.
I will be also opening the Akasha (soul records) for the group to allow Divine messages to come through, and a group card pull.
Based on the themes coming though, Rosalyn will share download a talk that's customized to the group, so that the themes are what exactly you need to hear to support you in your Highest Good & Truth. This is where the alchemy of my gifts of channeling, psychology, neuroscience, and spirituality come in to serve and support you in deep, profound levels…to come home to you.
Inner child healing & reprogramming your subconscious .
I'll be downloading journaling prompts for the group to move through based on what comes through, with the intention to support you in moving forward in whatever challenge in your life is being presented at the time …
To support you in activating and embodying your next level version of you, I will be guiding you through sacred meditation, infused with reiki and light (soul) language and guide you through clearing, healing, rebalancing, activating and re-calibrating.
This is a true sensory experience with hot stone, hot towel, and (optional) essential oils.
___
Benefits of Salt Cave:
Energetically, the salt helps release karmic patterns, toxic thought patterns, and heavy energies, that no longer serve or support you. Surrender, let Mother Earth transmute your energy and processes into positive.
It can make your skin look great.
help boost your mood and give you more energy
Help reduce inflammation and lessen mucus production, making it easier to breathe.
Potential relief for those suffering from asthma, allergies, chronic sinus congestion, and COPD.
Possible protection from the flu, since salt also has anti-fungal and anti-viral properties.
All humans are welcomed ;)
***No Vac Passport NeededI would like to this to be an inclusive event. Please note the cave is intimate, so it is not covid-friendly distancing. We trust that those who are coming will honor theirs and other's bodies based on integrity and honesty of their health conditions.
LIMITED to 10 spots only! So, I wouldn't wait ;)
Please get yourself on waitlist if spots are sold out, and it will be first come, first serve: email Rosalyn@rosalynfung.com with subject line: SALT CAVE and your name and phone # in the body of email.
Please note: There is a $50 non-refundable refund if prior to 48 hours of the workshop. After 48 hours, participants are responsible for the full amount of the workshop. Thank you.
____
WHAT TO BRING/WEAR:
Journal & pen
Yoga mat (ideally, we will be sitting directly on the Himalayan sea salt, but if you feel more comfortable to bring a mat, you can. The salt is soft!)
A blanket to cozy up with.
Wear your comfy clothes, layer up, as it can feel cool to some people.
An open mind and attitude ;)
And most importantly, YOU.
Optional: If it's your thing, your own crystals that ground and activate you
___
ABOUT YOUR FACILITATOR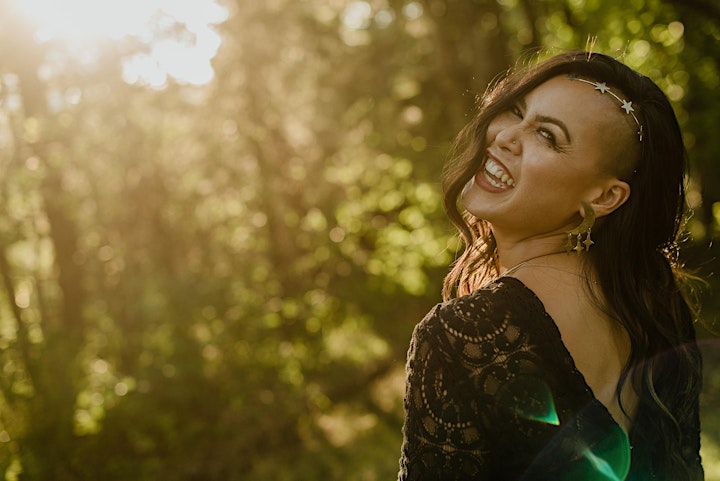 Rosalyn Fung is a Akashic Visionary Life & Business Soul Coach, Facilitator & Trainer of Flourishing Life & Leadership Coaching Certification Program, speaker, 2x international best-selling author, former psychologist, mastermind and workshop facilitator on the topics of topics of feminine leadership, self-love, mastering your energy, money mindset & attraction marketing. She has a podcast called Activate Your Soulgasmic Business and she delivers meditations with light language activations.
Rosalyn Has Been Featured In Huffington Post, Cbc Radio, And Has Spoken For Fearless Woman Summit, This Woman Means Business And Harvard University.
As A Former Psychologist Of Over 10 Years, A 2nd Degree Blackbelt In Karate, a Reiki Master & Divine Compassion Multidimensional Healer, she catalyzes You to Get Out Of Your Own Way, Unapologetically Show Up And Magnetize your dream life & business!
www.rosalynfung.com
FB: Rosalyn Fung Coaching: Bold Sexy Warrior
IG: boldsexywarrior
My Free GIFTS for you:
1) Tame Your Inner Critic, & Love Your Body Guide & Video
Download here: http://funboldsexy.com/bodylove
2) Unlock The 3 Activation Codes That Allows Healers, Lightworkers And Coaches To Activate Inner Permission To Monetize On Their Calling
https://www.7figureconfidence.com/soulgasmic
Organizer of Luxurious, Self-Love Experiential Workshop in Himalayan Salt Cave