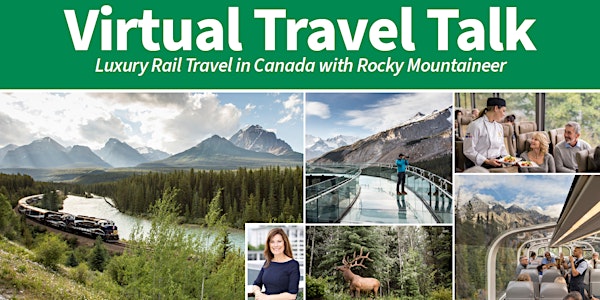 Luxury Rail Travel in Canada with Rocky Mountaineer
Explore the Rockies by rail!
About this event
Join us on February 18th as we virtually carve our way through Western Canada and the Canadian Rockies onboard the world-renowned Rocky Mountaineer train.
Experience life onboard Rocky Mountaineer as we travel on three unique routes that connect Vancouver to the mountain towns of Jasper, Lake Louise and Banff in both GoldLeaf and SilverLeaf Service.
Learn about what makes a journey through the Canadian Rocky Mountains by rail unforgettable, from the spectacular scenery and destinations to fine dining, roaming wildlife and impeccable service.
NOTE: Once you've registered you will receive a confirmation email containing a Zoom link. Please use this link to join the event on February 18th.