Artist Jane Appleby will lead a fun & informative painting workshop focused on personal expression of the landscape.
About this event
Levels: Beginner - Advanced
Ages: Youth - Adult
***Please buy tickets on our website here
Tickets for members are $60 and non-members are $65
Artist Jane Appleby will lead a fun & informative painting workshop focused on personal expression of the landscape. Various sketching & compositional exercises will be explored in this art class & each participant will be encouraged to paint their own expression on location in the medium of their choice. Watercolours, pastels, acrylics or oils (with odourless solvents) may be used, along with sketching pencils & ink pens. Simplification, abstraction & various ways to capture a scene will be covered.
This class will be outdoors & a table, chair & cover or canopy are recommended to bring along, as well as your own art supplies. Suggested supply list is available.
Previous painting experience may be helpful but not necessary.
Workshop will take place in person outside the Silk Purse Art Gallery with current Health Order precautions in place.
Suggested Materials:Paint: Watercolour, Pastels, Oils or Acrylic high-quality tubes or fluids.
Hansa Yellow Light, or Cadmium Yellow Light ,or Lemon Yellow
Quinacridone Magenta (or Red), or Alizarin or Cadmium Red Light, or Rose Madder
Primary Blue, or Pthalo Blue (Green shade), or Cobalt Blue, or Ultramarine, or Cerulean Blue
Titanium White - Large
Raw Umber, or Burnt Umber, or Payne's Grey
Optional: Yellow Ochre, Sienna, Prussian Blue, Purple, Green, Neutral Grey, your favourites
Brushes: Good quality synthetic, firm yet flexible. Bring your favourites & lots of them.
5 Flat, bright or long, angled or filbert brushes. 1.5", 1", 1⁄2", 3/8", 1⁄4" your choice
3 Round brushes with good point (no. 4 up to no. 12)
Tiny round with good tip (No. 00 – No.2) for detail & signature
Palette Knives (3 metal or plastic to mix paint for oils or acrylic
Paint Palette: "Stay Wet" kind for acrylics. Wooden or plastic palette for oils.
Paper towels and/or rags for wiping and cleaning
Drawing Material
Sketch Book: Ring bound sketchbook approximately 11 x 14 of at least 10 sheets.
HB Pencil & eraser
Black Marker or wedge-shaped sharpie or black ink brush pen
Painting Surface: Canvas or board or mounted paper. 2 of your choice eg: 8 x 10, 9 x 12, 11 x 14, 12 x 16. Primed for acrylics or oils.
Tools:
View finder or cropping tool (2 L-shaped cardboard pieces)
Colour Wheel
Small mirror
scissors
painting masking tape
Set-up: Small portable table & chair or blanket, (painting easel or box is optional).
If using Watercolour or Acrylics: Water Holders (2 -500 ml containers), small spray bottle, water
If using Acrylics: Liquitex Gloss Medium & Varnish and/or Golden Glazing Medium
If using Oils: medium such as walnut, or linseed, or stand oil, & odourless solvent. Wet paint carrier box for paintings & wet paint.
Personal Needs: lunch, bottled water, sunscreen. Consider an umbrella or wide-brimmed hat.
Artist/Instructor Bio
Jane Appleby is an expressive & intuitive painter who paints with the vigour of her love of life, inspired by the Canadian Landscape, often painting outdoors in the tradition of the Canadian Group of Seven - "En Plein Air." Jane was born in Cheb, Czech Republic in 1964, & her family immigrated to Vancouver in 1969, as sponsored refugees. At a young age, she learned to appreciate the outdoors with her family, who valued the new found freedom of the west coast. Jane served as president & show coordinator for Burnaby Artists Guild.
Jane also obtained membership with The Federation of Canadian Artists & over the years took workshops from established members of the group. After many classes locally, Jane wanted to take courses outside of Canada & ventured to California to learn plein air acrylics with Marcia Burtt. She enjoyed two week-long workshops, at Cambria & Goleta Beach. She further studied at Emily Carr University where she excelled in drawing & composition of colour & received a Fine Arts Technique diploma.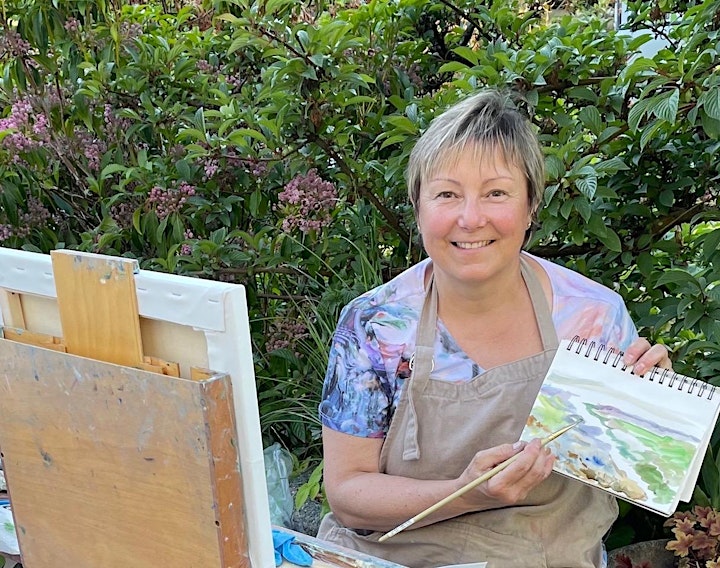 Organizer of Lyrical Expression – En Plein Air Painting Workshop