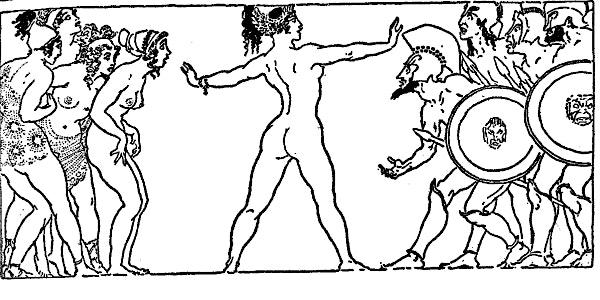 Lysistrata, Roe v Wade Edition: Comedy Fundraiser for Reproductive Rights!
A raunchy reading in support of US and Canadian women's reproductive health!
When and where
Location
Lazaridis Hall, Tom Patterson Theatre 111 Lakeside Drive Stratford, ON N5A 7S3 Canada
About this event
With the generous support of the Stratford Festival, IATSE Local 357, the Abortion Rights Coalition of Canada and the CAEA: a fundraising reading of a new adaptation of the raunchy Classical Greek comedy by Aristophanes, Lysistrata!
Festival and Stratford actors and friends read this response to the overturning of Roe v Wade in the US. The all-star cast features: Marion Adler, Bola Aiyeola, Sean Arbuckle, Jeff Culbert, Nicky Guadagni, Caitlin Kelly, Robert King, David Kirby, Wahsont:io Kirby, John Koensgen, Beck Lloyd, Monique Lund, Gracie Mack, Seana McKenna, Chris Mejaki, Brad Rudy, Anthony Santiago, Rose Tuong, Amaka Umeh, Emilio Vieira, Mark Weatherly, Julia Webb, Scott Wentworth. Alice Ferreyra stage manages.
All proceeds go to support the National Abortion Federation (US); the National Abortion Federation Canada and Indigenous Women Rising abortion fund (serving both the US and Canada, where abortion is legal but not accessible in all regions).
Admission is by donation (click "Donation Ticket"; suggested minimum $20), or if you are not able to attend but would like to donate here, you can do so by clicking on "Donation Only."
The show runs 90 minutes, so you can be back home for an early night, even to Toronto! The bar will open at 645 pm for you to purchase drinks and snacks before the show. Come early to chat, and enjoy an evening of laughs with a purpose in beautiful new Lazaridis Hall (Tom Patterson Theatre)!
*Masks are optional but strongly recommended.
-----------------------------------
Donation tax receipts will not be issued. If you prefer to make a donation only (no ticket included) to a Canadian registered charity for which you can receive a tax receipt, please use the website below:
National Abortion Federation of Canada: https://nafcanada.org/donate/
Our sponsor, the Abortion Rights Coalition of Canada, also accepts donations as a non-profit (not a registered charity): https://www.arcc-cdac.ca/donate/
-------------------------------------